Halo Infinite topic.
Looking to play with someone else?
Discuss the story? Talk about the sandbox? Here the place
I'm not a multiplayer fan but infinite has been on my list ever since it was announced. Can't wait to play the campaign.
Honestly I thought 5 was okay but this one needs to do a lot to pull the fanbase back, hope it doesen't disappoint. 343 haven't exactly made the fans happy up to now.
They certainly are getting lots of mixed feedback from for the multiplayer at the moment. Too much micro-transaction for a Halo game. The gameplay itself is a lot of fun though
I will say this looks like it'll be their best campaign story wise. One thing I have a major personal gripe with 343 about is just how poorly connected their games are to each other. Requires a lot of research outside of the games, which makes them super nonuser friendly.
Don't get me wrong, I like lore in my games, I'm a Dark Souls fan it comes with the territory lol but 343 have kind of killed the spirit of Halo in a lot of ways, changed a lot of the style and really made it a bit weird in comparison to the original 3.5 games.
So I do hope that it's a return to form a bit. At the very least I'm happy that the Sangheili are back to their normal designs, Chonky Arbiter made me sad

I do love the new art. And the Banished feel like a more natural story element
Huge Halo fan, but I can recognize the issues that people have with 343s take on the Halo universe. Honestly at this point I'm willing to give them a shot on Halo Infinite and see where the story goes. They realized that they kinda of disappointed the Halo community with Halo 5s storyline and they are trying to redeem themselves here. I'm not a big fan though of the big time jump between 5 and Infinite. Normal gamers don't want to read the books to fill in the gaps, so hopefully they can explain that all within a rather lengthy campaign.
I've read all of the Bungie era books and some of the 343 era ones just as an added bonus to this.
Couldn't agree more.
The fact that they may have a chance to redeem their trilogy series with this recent game then got lots of positive feedback and decided to instantly heavily monetize it is not a good sign in my opinion.
Rubs me the wrong way
can't wait to play dozens of squid game (from popular Netflix series squid game) maps when forge is released
I am actually curious to know people's take on the MP Beta that was released. I think it's pretty solid, the core gameplay. Obviously, bugs need to be fixed, and the progression system needs some improvements. But what are some of your thoughts? I like the Halo: Reach MP feels to it. The gunplay also feels solid. This is coming from someone who didn't enjoy Halo 5s MP after a couple of weeks.
Thoughts…?
Similar boat. It has Halo 3-Reach vibes to me in a good way. The gameplay feels a little blocky to me still at times just because of dramatically they changed the controls for a Halo game, still tweaking my settings.
I feel like its an improvement over-all from 5 to be certain. It looks and feels crisp a lot of the time.
Hate the mixed Slayer and Objective playlists, that needs a change.
Also the game needs collision. Having an enemy walk through you to melee you in the back is just a terrible experience.
And they need to add more content to multiplayer and de-monetize a lot because it is absurdly priced at the moment. $20 for a shader and a helmet? They gotta be smoking crack.
Im not gonna get my hopes up yet. The prices they're charging for cosmetic items is insane and I still experience egregious desync and lag whenever I do play the game
I've found that the opposite is true for me, lag and de sync seem to be an occasional annoyance and as far as I'm concerned any online game is going to have problems with lag.
Heck the game runs great considering that it's nearly impossible for me to play Rocket league off Wi-Fi alone
The shop on the other hand is a big agree, although they did go in and change the prices which you have to admit is a commendable effort and with some of the promises they're throwing around there might be a light at the end of the tunnel after all.
Man I wish I could say the same. Its rare I find a game where I am below 120 ping. Enemies constantly rubber banding across my screen, shots not registering, and melees not dealing damage.
According to many other players as well, this is a very common experience.
I can't commend it when all they've done is drop the price from $20 for a shader and few armor pieces to $15. Its insane to say that one armor set is equivalent in value to 1/4 of a whole game, which frequently by Halo standards would include hundreds of customization options naturally.
It's like they started the prices off ridiculous just to say they listened by ever so slightly adjusting it to 'ever so slightly' less ridiculous
Since everyone everywhere is posting their season 1 Spartans I figured I'd do the same

I'll get some better pictures of it
who needs halo skins when you can have gimkit skins
Nail polish babyy
Here's my guy, going to be changing very soon with the season 2 battle pass tomorrow.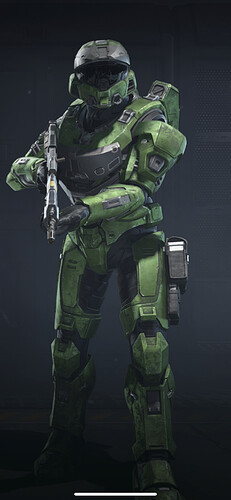 Season 2, dropping May 3. Can't wait!
Honestly not feeling like this season will redeem it. It'll have some initial fun and the Battle Pass is definitely improved, but the desync and lag is still so terrible. Horrible progression system with being linked to very obnoxious challenges and no Spartan career doesn't give me faith for 6 months.