So this is Iserif v2. I'm sure there are a lot of Grim Reaper MOCs on the boards but I wanted to do this anyway because MyAlexDk suggested it on the original Iserif
Background
After falling into the region if water, Umarak reanimated his spirit into a loyal servant, Colrar the Grim Reaper. After Makuta and Ekimu went into stasis, Colrar took up residence in the City of the Mask Makers. He later created the Skull Villains. However Kulta betrayed him and took his place. Collar then went to Umarak and found he was possessed by Makuta. He then joined forces with Makuta and was placed in control of Umarak. The slave had become the master.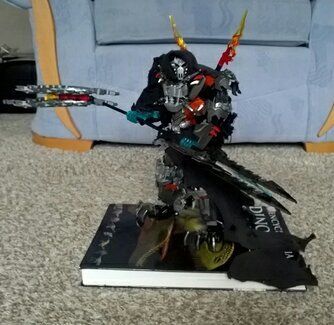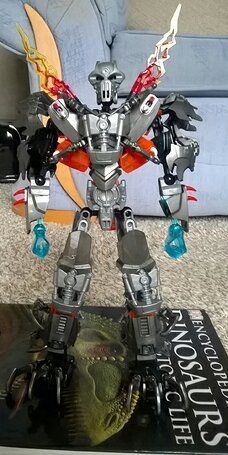 Here he is without a cloak
You can't see it but he has a gear function, those flame pieces move it instead of a gear. And he is quite tall, head and shoulders over Jaller Inika.
Thanks to @MyAlexDk for the idea of turning Iserif into a grim reaper.
Please I'm begging you here, give me constructive criticism, tell me if he's an improvement and if you like him.
IMO he is the best MOC I have done yet, do you agree?
This guy may be my new self MOC, do you think he should be? I think he's definitely better than my old one.