Kamen Rider (仮面ライダー Kamen Raidā?, Masked Rider) is a tokusatsu superhero television series and weekly science fiction manga created by manga artist Shotaro Ishinomori. It debuted on television on April 3, 1971, and ran until February 10, 1973, airing on the Mainichi Broadcasting System and NET TV (now TV Asahi). The manga adaptation was also featured in Shōnen Magazine around the same period. The series has evolved into a franchise with many subsequent annual iterations.
The Kamen Rider Series (仮面ライダーシリーズ Kamen Raidā Shirīzu?, translated as Masked Rider Series) is a metaseries of manga and tokusatsu television programs and films created by manga artist Shotaro Ishinomori. The various Kamen Rider media generally feature a motorcycle-riding superhero with an insect motif who fights supervillains often referred to as kaijin (怪人?). The franchise began in 1971 with the Kamen Rider television series which followed college student Takeshi Hongo and his quest to defeat the world-conquering Shocker organization. Over the years, the popularity of the franchise has grown and the original series has spawned many television and theatrical sequels, and launched the "Second Kaiju Boom" or "Henshin Boom" on Japanese television in the early 1970s, greatly impacting the superhero and action-adventure genre in Japan.[1]
Masked Rider is an American adaptation of the Japanese television series Kamen Rider Black RX, the ninth in a line of series in the popular Kamen Rider Series franchise. It was produced by Saban and aired on FOX part of the Fox Kids program block from September 16, 1995 to August 31, 1996 and then in syndication from September 9, 1996 to September 1997. On May 7, 2010 the copyright for Masked Rider was transferred from BVS International to SCG Power Rangers.
Kamen Rider: Dragon Knight is the Daytime Emmy Award-winning American adaptation of the Japanese tokusatsu series Kamen Rider Ryuki, the twelfth installment of the Kamen Rider Series. It was brought to television by Steve and Michael Wang and produced by Jimmy Sprague through Adness Entertainment. The series had a sneak premiere on 13 December 2008 and began official broadcasting on 3 January 2009 then continued throughout the year. Adness chose to adapt Ryuki over the other Heisei Rider shows as it has a large number of characters (Ryuki had 13 Riders in total) as well as a female Rider. It is also the first tokusatsu adaptation of a Kamen Rider Series since Saban's Masked Rider, which was adapted from Kamen Rider Black RX. The show first aired in the United States on The CW Television Network during its CW4Kids programming block. Statements by director Steve Wang and lead Stephen Lunsford show that The CW had dropped Dragon Knight at the end of the year before its final two episodes aired in the US. The final episodes were uploaded to the 4Kids TV website on 18 December 2009. In 2012, all of the episodes were removed from the 4Kids TV website.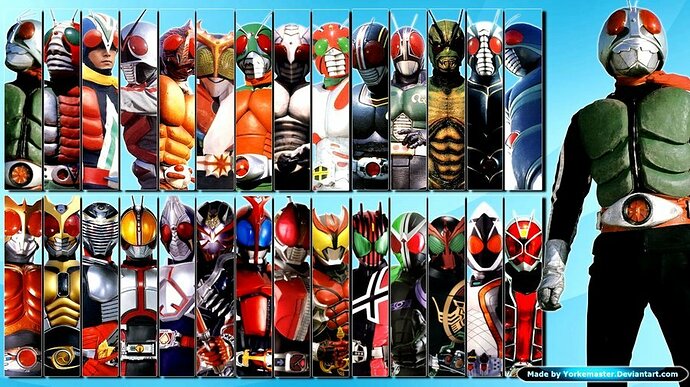 Discuss!