Hello everyone.
This was the part of the contest that I've been looking forward to, mainly because I already had an image idea in my head. The only thing to wait for is which build design won the first contest.
I had lots of fun making this, and I truly hope that people enjoy it as well…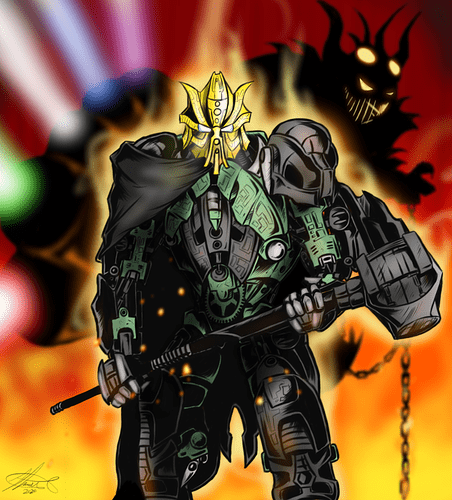 So the artwork has a somewhat similar vibe to the official artwork of Karzahni, it even has a shadowy silhouette of him in the background. It also has the silhouette of the canisters in the background, which are of course in reference to the Toa Mata. I moved his cape up and over one shoulder, mainly because I just like that look in general.
The runes all over his body are similar to that< in design anyways, to the rune look of the 2015 mask of creation. The same goes over to the mask itself.

The new mask design I made is similar to the already used 3D printed mask on the actual MOC, the biggest difference here is that mine looks far less familiar to that of the Mask of Light like the original mask in the MOC.
I think the mask already used is great, even the color works great, but again I wanted to do something different and new.
This mask resembles that of an alternate crown design and a beard-looking mouth. The biggest inspirations here were both the light drained version of the great kanohi Avohkii, as well as the great knaohi Olmak. Both primarily inspired the size and thickness of the mask. There is also inspiration from the mask of creation from 2015, as well as the mask already on the MOC, but perhaps that's a given.
Again, I hope that people like this and I can't wait to see what others do!
Thanks to those that come here!