Never seen this one but it looks like something they would have sold att LEGOLAND
yeah no I know nothing about it. Looks cool though.
Well Jim, it appears to be some sort of adornment for the head.
I wonder if the other 5 exist?
I used to have this exact hat. I bought it from Legoland Windsor in the UK around 2001. Sadly I lost it at some point and have been trying to find a replacement for near on 20 years. As far as the other 5 Toa, I only ever saw this design for Gali and Tahu.
Genuinely interested in any more info you can offer about where you found this hat. Let me know.
Did you win it in the end?
sadly it hasnt ended yet - but hopefully yes
@Hex - i dont know much - it was just a listing i found on ebay!, if your really interested i can send you the link to it
@ToaGali416 That would be awesome if you could. I'd appreciate it so much.
Fingers crossed. Thanks again for finding this. Means a lot to me.
no problem - nice to know i helped you out!
(update)
@Hex - i just checked and it ended - did ya get it?
I did. Very excited. Thanks again. I'll be sure to post photos when it arrives.
Nice! look forward to seeing them!
It's here! As promised, here are some photos so we can finally have documentation that this thing exists.
Got some closeups off the details:
The Gali embroidered banner,
The Bionicle "3 Virtues" logo on the left side of the brim,
The Bionicle text logo on the right side of the cap (just above the ear)
[more to come, stay tuned]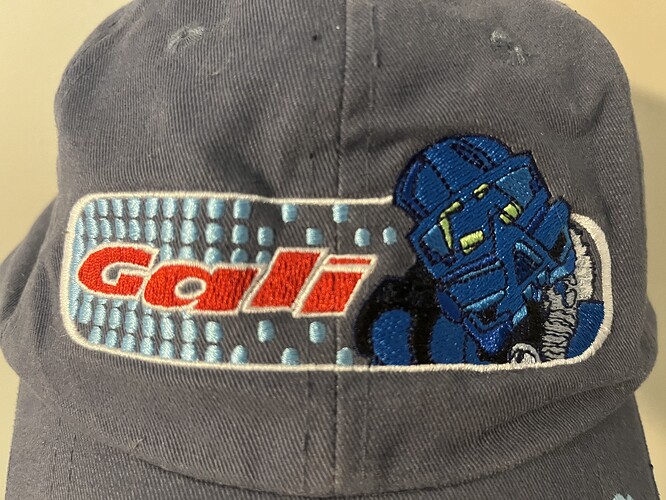 This little saga is one of the most wholesome things to read about in a while, so glad you won that hat! That embroidery really does look great! Thanks for documenting it so well.
Ooh that looks good. Really nice