They're all Le-Matoran, if memory serves…? I think Sanso or someone mentioned they were musicians, but I could be wrong.
Kongu mentioned them as gukko force members, along with vira and Orkahm.
Shoutout to Gar, Kyrehx, and Reysa, the mahritoran who never got sets and we all forget about.
stelt laborers(krekka's species)
the insane matoran who built the toa cannisters
i forget, did anyone mention The Silver Toa from bionicle heroes ds (or as i like to call it, bionicle heroes: doom ver)?
Peri (whom you might recognize from her superb animations) has an interesting theory regarding them that I think holds some weight. Although it is a fan theory, not like an official statement from the creators or something like that. (Also, legally I have to warn about the strong language present in the post).
I believe Angonce was meant to be the most benevolent of the great beings toward their sapient creations; I don't think there's a ton of info on Heremus, but I believe he worked on the baterra (probably not a "malicious" (per-se) great being like Velika, but probably more similar to John Hammond from Jurassic Park,- a "mad scientist"* who's a nice enough guy, but either through apathy or obliviousness, doesn't fully grasp/care how many people's graves his actions have dug).
*If memory serves correct, Hammond was not himself a scientist, but rather an entrepreneur with many scientists at his disposal, thus the quotation marks.
On the side of obscure characters, here's something interesting from Bionicle Heroes:
coughGSBcantimetravelconfirmedcough
In all seriousness, I think it's just a statue, but nonetheless an interesting tidbit.
That almost gave me chills to read! Mavrah was always incredibly memorable to me despite being a fairly minor character. I also totally agree about Voporak and Sentrakh. Honestly Voyage of Fear, Maze of Shadows, and Time Trap present a pretty strong case for Adventures being the best book series. They really took every opportunity to slow down and flesh out the characters and settings in a way later stories seemed a little too focused on Big Plot Moments to spend time on.
Also, I would have loved to learn more about Kabrua. The way the Vorox were singled out for experimentation and then completely ostracized as a community was downright horrific, and he had the potential to complicate what we thought we knew about them! That would be really neat to explore.
Hold that thought, his Matoran form is pure nightmare fuel: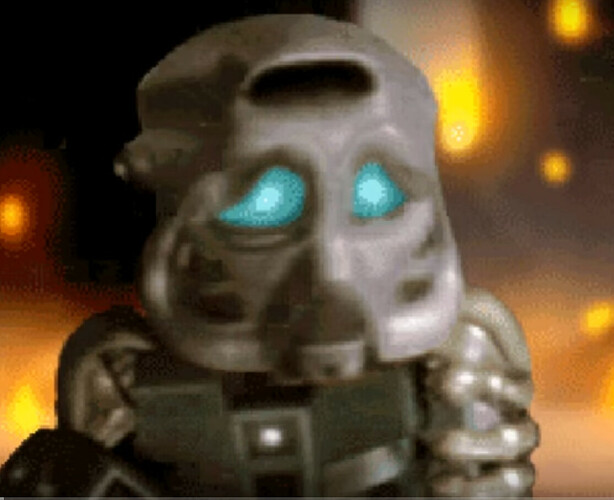 Also I 100% agree with @Jathru_Cranli 's evaluation of GBs.
All the Elemental Lords, Surel and his pack of iron wolves, that one green rock steed that Tuma ride (srsly no one want to talk about this creature) and most importantly, Kodan, the original chronicler.
Even though we saw very little of Heremus, somehow, I think you're right on the money with that comparison.
Branar-the only other named skrall besides tuma and stonius, earned a real name by being the one to discover and survive the Baterra and reveal their existence to tuma, and had a stand out design with having red highlights/accents on his helmet. really wish he had more significance later on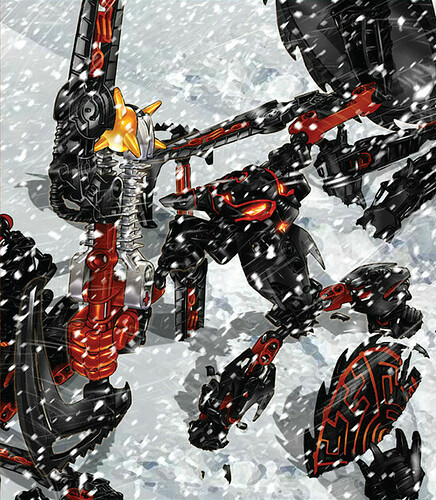 Maybe a Toa of Psionics such Varian or Orde? I always thought that the element was pretty underrated, and always wanted to hear/see more about it…
How about all those elements that never got officially named Toa in the story…
Oh, speaking of that, Lesovikk was also pretty cool imo, although like you said, I do wish we would've seen the rest of his and Lhikan and Nidhiki's team too.
Does Helryx count as obscure? Probably not anymore lol.
I was always a fan of her description as being ancient and decrepit due to her age. Plus her not following the toa code because she was created before it is pretty cool.
I also like Jerbraz, the handsome Order of Mata Nui member who is now permanently invisible, so you have to just imagine his good looks.
Ah, you know what? Add the Bohrok-Kal to the list. Even though literally everyone forgets that part of 2003 happened, I think they're fun mooks.