Hey everyone. I figured since I'll be doing a lot of reviews this year, this topic might be good to have to answer questions and fully explain all of the different Review series' I've done.
Let's go over everything.
---
Eljay's Recap Reviews
Original run: January 2013 - December 2016; Epilogue in April 2017
Status: CONCLUDED
Obviously enough, these are where everything began. This series was entirely devoted to reviewing every constraction set from BIONICLE Generation 1. That goal was accomplished. I aimed to make them as objective as I could, using aggregated opinions and viewpoints from the community I had heard over the years as the sets were being released.
A link to the full playlist is here.
Eljay's Recent Reviews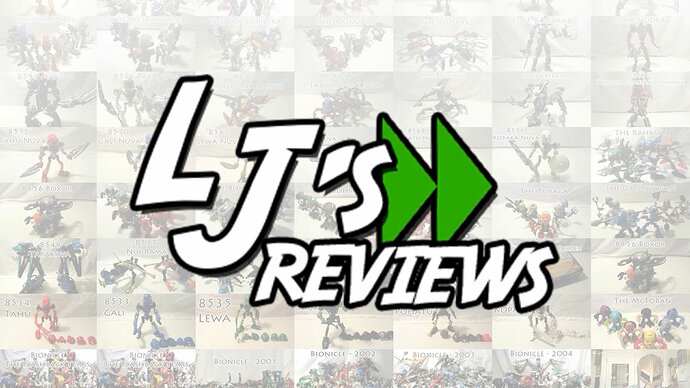 Original run: December 2014 - January 2017
Status: CONCLUDED (?)
With these reviews, I set out to review every set released for BIONICLE Generation 2. I eventually managed to finish it, however I am heavily considering one final addendum. Any reviews I do of current sets will not be called a Recent Review, as these were specific to BIONICLE, and as such any current set reviews I do will fall under the "TTV Reviews" banner. Any exceptions would likely be BIONICLE Generation 2 related.
A link to the full playlist is here.
Eljay's Retired Reviews
Original run: October 2018 - PRESENT
Status: ON-GOING
These reviews are much different than the prior two. While the Recaps and Recents were dedicated to covering both Generations of BIONICLE, the Retired Reviews have a broader goal of going over other entire themes. For example, the entirety of Exo-Force, Blacktron, or Atlantis. For now, they're starting with the entirety of the BIONICLE Playset sub-theme, otherwise known as the System BIONICLE sets. The reviews will be based on my subjective experience with any given set in question.
A link to the full playlist is here.
---
That covers everything for now. Expect an addition to be made to this sometime this year. I won't say when exactly since it's gonna be a bit before it is ready, but I'll mention it to keep everyone wondering.
And that's it. Ask me any questions you may have and I'll do my best to answer them. Thanks for reading!