So, to start off the bat once again I decided to do another revamp of a 2015 Toa, ignoring the fact so many of these have likely been done to death, while 2016 revamps are what the main focus probably would be currently. Regardless of my once again very oddly review, I want to put it up anyway because I'm actually much more proud of Onua than I am of Pohatu.
To start off, I just recently got my Onua and Kopaka sets in the mail because I actually regained my interest in Bionicle around november's end, which did not give much time for set purchases before they began vanishing, so I built them after they arrived. I was actually very satisfied with Kopaka, other than the huge shield which I replaced with Rocka's breakout shield, made his shoulders white instead of gold, put his old shield on his back like the back of a coat or cape, and excluding his lower legs looking off I was perfectly happy with him… Onua on the other hand, I could not look at him and think "This is a good iteration of Onua" at all, and I'll quickly explain why.
While I was at least content with Pohatu out of the box and just wanted to see if I could do better, I absolutely hated Onua's out of the box build, which I'm even surprised by since I knew I wouldn't love his build when buying, though I thought I would at least like his build. I didn't, nothing about his build interested me, and considering The people I've talk to about Onua's recommendations all loved his build, so I guess I'm just the odd one out here.
-I like the idea of him having wider shoulders to accentuate and emphasize his attribute of strength, though his arms were one… Bushing? I'll use bushings as incriments of measurement. One bushing too wide while on an awkward and limiting connection.
-While many loved his animalistic feet, I really felt they didn't belong on Onua, because he has no real tie in to animals, Lewa has more of a connection with them and they would look bad on him in my opinion as well (Both the protector and larger feet).
-And while I won't include what little of a hunch back he had bothering me since that's just my nostalgic preference, I cannot ignore what I say as my last point, I absolutely hate his chest piece, I didn't even bother putting the stickers on the finished product because his chest piece was so ugly in my opinion. I completely hatted how it looked on him.
I loved a lot of pieces Onua came with, though I hated the chest, feet, the hordika necks, while I loved the rest of the parts and disliked large amount of the build, so this is what I did to see if I could make something I could comfortably call "Onua".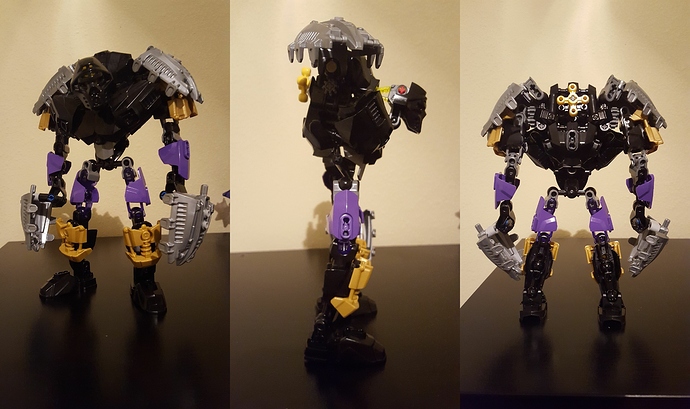 Excluding his limbs since I still wanted them to have the CCBS look to them, I really do feel I filled him out very well in his torso, from the fact I made his back and hunch back top more rounded while forming decently around his gear function, to the custom chest armor so he could have a true hunchback look to him. I also added a couple tiny details such as the sort of pistons in the small caps of his armor's sides (I probably should have made those grey instead, though I could only find one of the piece in gray I needed), however I'm happy with the overall result.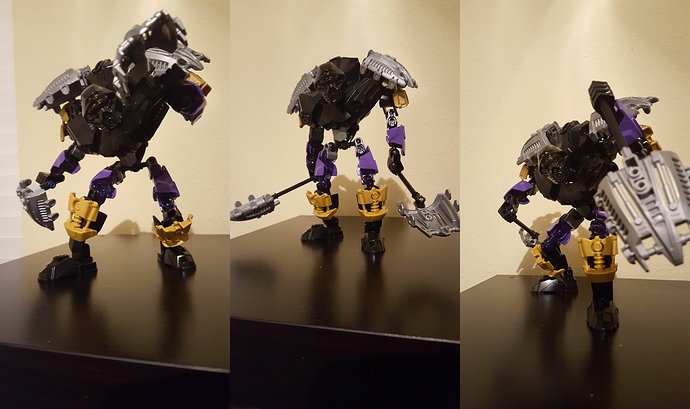 With the weapons, I also kept the idea of his claws being tools rather than a part of him, (Something I for some reason didn't do with Pohatu, probably more because I could more easily give him two fingers, and the fact 2001 Pohatu had no real weapons, and his nuva weapons being literal claws, it just looked better on him). I also gave him an alternative weapon to use, and while it's not chainsaws like his Nuva incarnate, I think dual shovels work with him, I could see him being the type to be so strong that he would dual wield shovels and dig with them very rapidly, something that is normally a two handed tool, it just makes more sense than a stinking hammer. Heck, maybe he can smack the shovels together and form a jackhammer or drill he holds with both hands and pushes with full force on to dig quickly with, I think that makes sense too.
Overall, I am so much more proud of Onua than I am of Pohatu, the only things I will likely change with him in the future would be to add more translucent purple limbs when I get Onua 2016, add a bit of extra armor to the backs of his shins and such, and give him the same elbow connection as Pohatu so he can move his Forearm inward for posing, because I'm a moron and forgot to do that before taking pictures. The one flaw with my changes I couldn't find a good way around would be the fact that with how I designed the hunchback, his eye stalk always hits that top hunching piece, and his neck is slightly hindered at times. Still, I'm very happy with how he turned out and how filled out he feels, and really wanted to put him up and see what others feel about him.