Hello everyone on the Boards!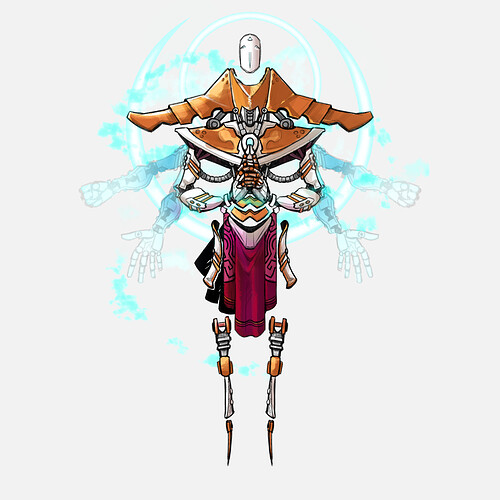 A while ago I did some concept sketches for Marendar.
That post has a lot of explanation on my various takes on the Toa-killer, but one of them stuck out to me recently. That was the ninth version I created, which I simply called "Salvation" based on the Agori translation of Marendar's name.
The quick run-down of that concept was to really run with the idea of the "savior of the Agori" and focus heavily on other-worldly, angelic motifs. I imagine this version of Marendar being an unstoppable and harrowing force, an angel of death floating high above, inspiring hope into the citizens of Spherus Magna.
It's an unconventional take, but one I'm quite fond of. I think it's interesting to juxtapose Marendar's physical appearance with his role as a killer and a villain. After all, everyone is the hero of their own story.
I decided to take that concept further and do a full illustration. There's some obvious influences here, most notably the design sensibilities of Zenyatta from Overwatch, but I think that vibe really fits what I was going for.
Anyways, here's your cookie:
As always,
Comment and Discuss!