I think we can all agree that Ketar's not a very great set for anyone looking for more than a parts pack… unless one wants a challenge. The set's not very popular; my local Wal-Mart had something like 30 poor, unloved Ketars sitting on the shelves that all the other 2016 sets were practically flying off of. So, feeling sorry for them and with an afternoon to spare, I decided to pick up two to see if the parts from two bad Ketars could be combined to make one good Ketar.
Also, I'm no stranger to revamping scorpion sets… http://board.ttvpodcast.com/t/my-take-on-skull-scorpio/11533/47
Here's the result: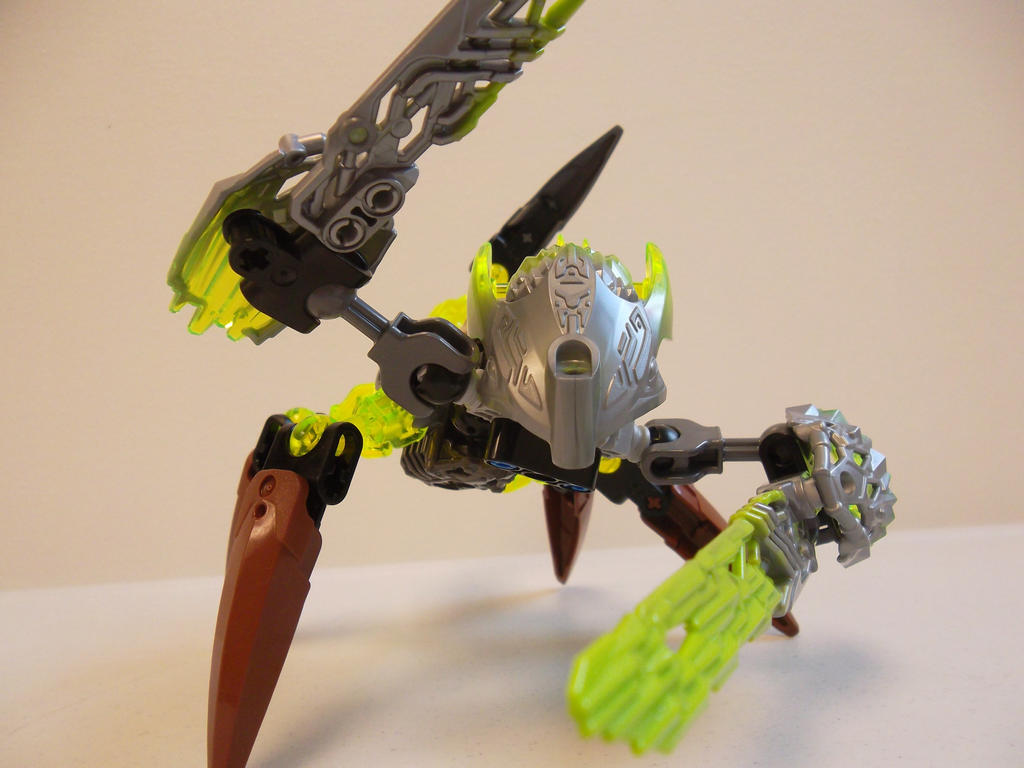 Meet Ketar. He's happy to finally receive some love. Or angry that everyone hates him. I can't tell.
In revamping Ketar, I wanted to:
retain roughly the same size and piece count of the original set. My Ketar is no bigger than anyone else's, but I think his shadow trap would have to be simplified somewhat if he was to actually be a $10 set.
incorporate some kind of function. All the creatures have a function, but Ketar's was unnecessarily loose, goofy, and it made the whole set look rather haphazardly put together, which brings me on to…
create a more aesthetically pleasing set. I mostly just put my sets on display, and I wanted Ketar to look like a cool scorpion as opposed to a largely cobbled together collection of parts.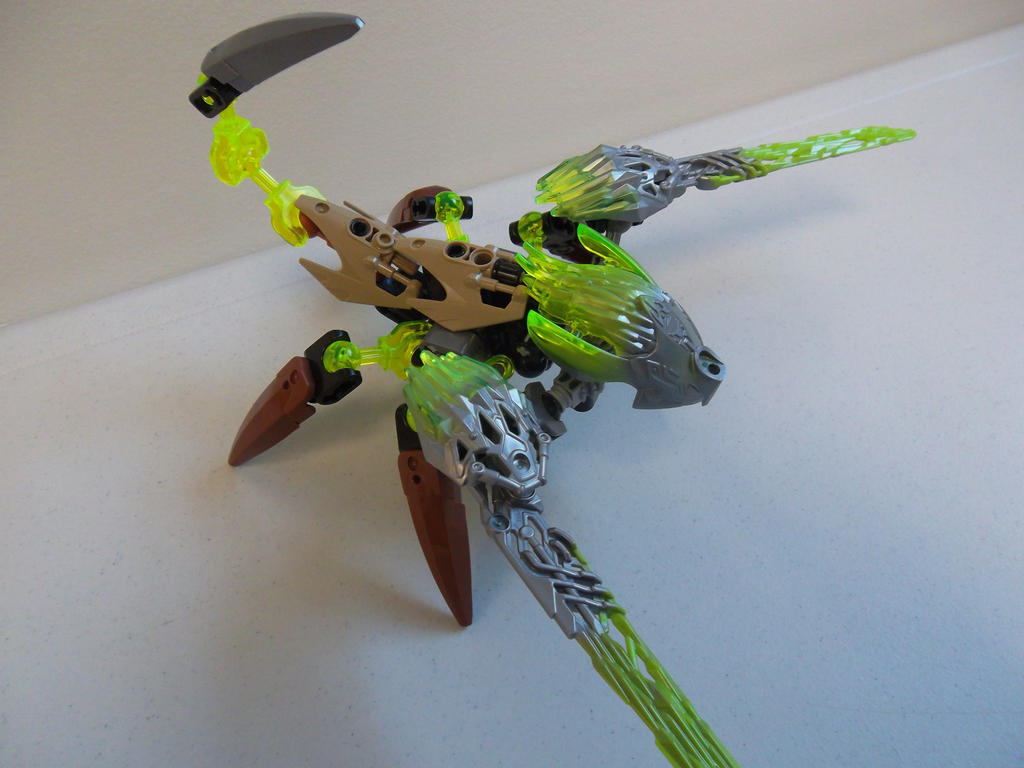 Top view. Honestly, the two Vorox armor pieces were one of the very few ways in which I ended up needing parts from both Ketars.
In the end, I used a few more pieces than just the Ketar sets would provide (two hordika necks, a few small technic brackets and beams, and some ball joints) but I think the result looks a lot better. I didn't try to revamp him to the point of creating a larger tail with a function or to add pincers, since I think Ketar's design was focused on the blades being his primary weapons over the tail. Hence, my Ketar's tail is small and really can't do a whole lot besides adding to the scorpion aesthetic, while the blades are the focus of both the appearance and the function.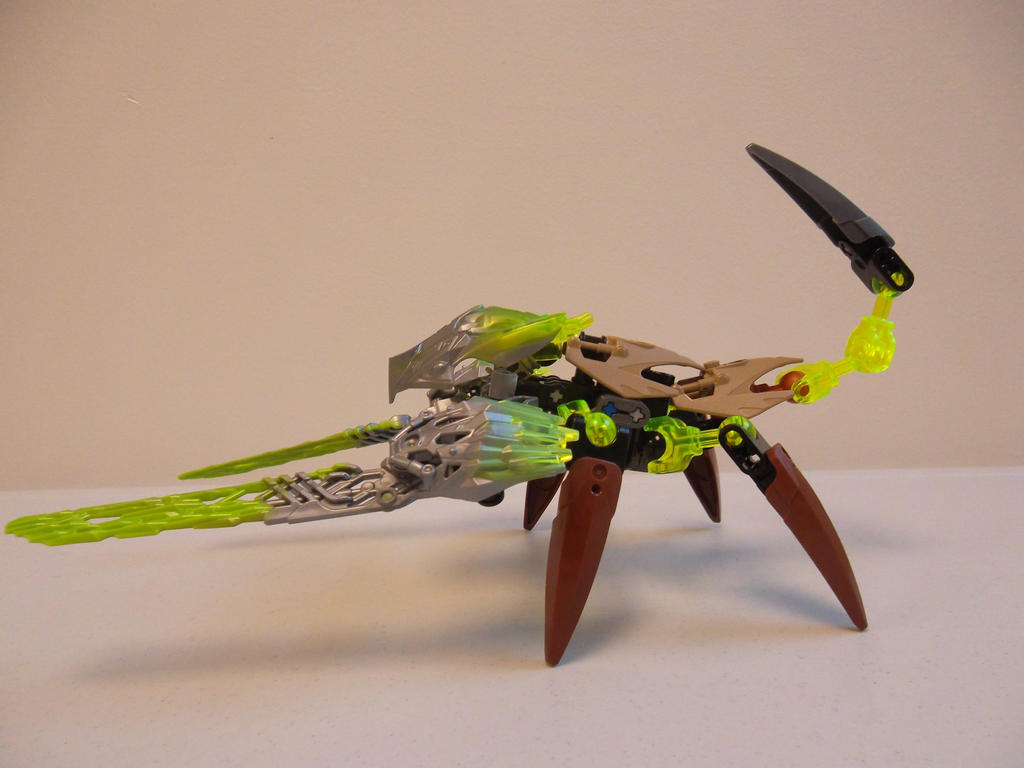 Side view. Most of the 'extra' pieces I used over Ketar's standard supply ended up going into the body.
The main issue I had with the original set was the body, which due to the exposed function looked very crappy from pretty much every angle. Creating a function on the scale that the creatures use isn't that difficult, but packaging it nicely was a real challenge, especially since the Vorox armor does not play nicely at all with the 'Piece of Unification' construction-wise. In standard poses, therefore, I instead hid the function under his head. My Ketar has almost no neck and therefore very limited head articulation, a reference to how real scorpions don't have a moving head either.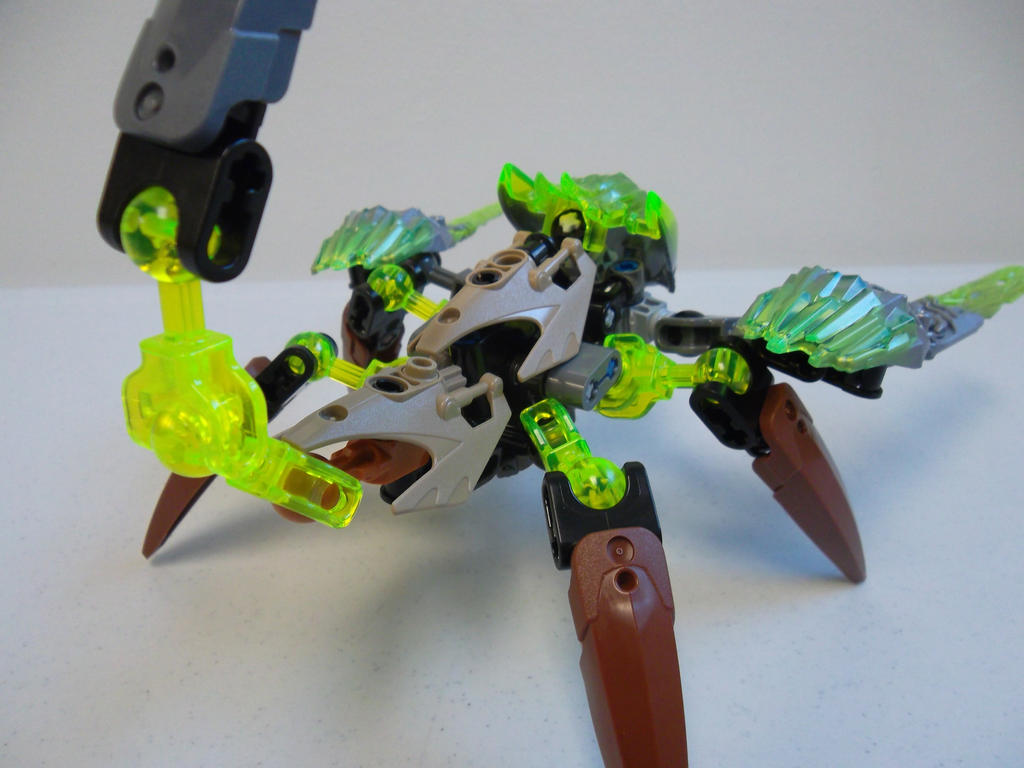 The 'Nyran' shot, or as close as it gets for something that isn't humanoid in shape. Ketar's tail is pretty tiny and is there purely for aesthetic reasons; it does not hook up to the function at all.
As far as the colors go, I actually don't find them particularly bothersome. The single dark tan piece on standard Ketar is a bit mystifying, but add a second one and they give a nice illusion of a sand-colored carapace. Pity the head isn't a dark tan/trans lime green blend, as that really would complete the aesthetic nicely. Though I didn't really intend to, I did end up removing almost all traces of burnt orange; the only exception being one Glatorian neck left over to which the tail attaches.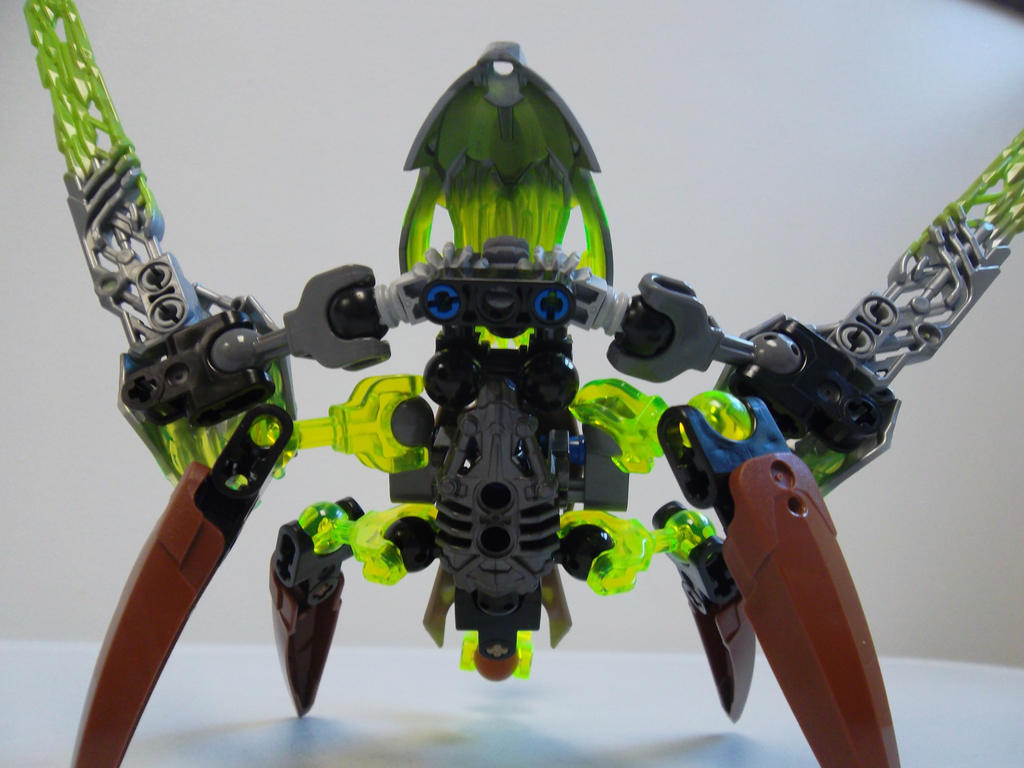 Ketar wants to give someone a hug… or just show off the build of its abdomen. The function gearbox is more visible here, as well as the 'Piece of Unification,' which was a real pain to fit in conjunction with the Vorox armor on the back.
Since the torso build still includes the 'Piece of Unification' and both of its pin holes are clear, my Ketar is still technically capable of uniting with 2016 Pohatu. However, I don't own a Pohatu (or any of the other uniters) and since my Ketar doesn't have the original's long neck, his head can't function as a hat anymore, making the uniter forme even more pointless than with the original. Really, the only way in which I see it being worthwhile is if Ketar had a large, meaningful tail function, so he could use his stinger to kind of cover Pohatu's back, but even then, it's kind of silly. If you're going to unite with a creature and you want it to look good, make sure to find one with wings or a fish tail.
As for the gear function:

Ketar can now do a kind of dual stab/scissor strike with its swords, which I think is pretty cool. Usually, I grab the head from above and slide it forwards or backwards, rather than pulling on the 'beak,' but since I don't have a real camera setup I couldn't make that work easily on video. The function also includes enough friction to easily hold whatever position I leave it in, though I have to be careful when I actually try to pose the arms or blades.
So, what do you think?