Hi everyone, this is my first post as a TTV member!
Over the past 2 years I have been slowly working on a scientific investigation of the Spherus Magna Planetary System from BIONICLE. Do you want to know the strength of the surface gravity on Bara Magna? The orbital distance of the Red Star? Take a look at the below links to find out the answers to these and way more questions you probably never asked. I've spent so long on this and poured so much time and effort into it and I am so proud of the result. I hope any of you that are interested will check it out - if you get even a tenth of the enjoyment out of it that I did making it, I think it will be time well spent.
I've got two versions of the document linked below, the summary version (which just contains my results without any of the workings out or maths behind it) and the full version (that contains all 53 pages of my full methodology):
Here is a preview of some of my results - a fully to scale map of the system!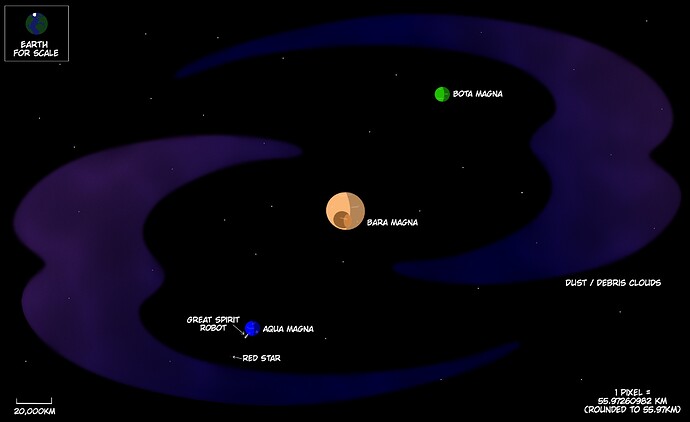 What do you think?
EDIT (24/08/2022) - Hi everyone - I have updated the links above with new and improved versions of my scientific study of BIONICLE - see the new links for the addition of information on the tides of Aqua Magna, alongside a much improved summary document that goes into the detail and differences of Greg canon vs Faber canon and contains a new page on some cool details that came about as a result of the study (including how Solis Magna moves across the sky in the opposite way to how the sun appears to move here on Earth, and the very strange view of the two moons the inhabitants of Bara Magna would see from the surface)
RahiWatching