over all looks really good. I like the hammer, the extra hands, the mask choice and those sun glasses. The feet do look a tad small, but it isn't too distracting
good work, this is a solid 8/10
those glasses lol

Wait what hammer? Please explain?
@Arc1786 @GIF.Man.Ben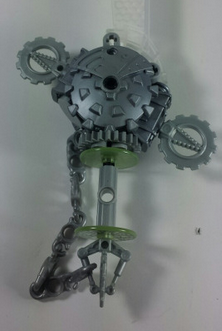 is this not a hammer?
EDIT: I just saw the clear wing… this is a sword
######I'm so sorry
This MOC reeks of creativity. And I love it.
I've never seen fairy tail, but sure! Why not?
DEM SHADES
DEM SHADES
That painted Faxon looks really good too. I like it.
Also, he can use Elwind?
Looks pretty good, quite a bit of greebling on this but i think it works. Mid section seems a tad thin though compared to thickness of lower legs.
Personally was getting Dr Strange vibes;

I like the MOC design, especially since you were able to incorporate four arms into it, without making it look cluttered and odd. I officially give this the Evil Dead seal of approval: 5 chainsaw hands out of 5.