With the recent reveal of the Voodoo Heads in their prototype phase, now we can rip them to shreds as if they were real sets to make up for lack of Bionicle 2015 news! Feel free to discuss amongst yourselves about these weird guys.
For now, let me post my opinions.
Sledgehammer Dude
The head/mask actually looks pretty cool for what it is. As seen in the video, it has a function in which he slams his hammer to the ground with both arms with the help of rubber bands. Torso is a bit flat though, and the crotch chains look out of place, but it looks pretty cool.
Blockhead
Colours and stance make it look like a hockey player. Torso build is intriguing and those custom feet look nice as well. It wields a feather duster and a balljoint earing.
It's Rotor!
Looks okay. He appears to be holding some type of organic bone tool (something a native indian would have).
Kiss me
Um…okay…
Are these feather dusters a reoccurring trend? Are they something voodoo witch doctors have?
Derp Variation 1
The gappiness is painful. Horribly proportioned. Crotch chain. Tiny bone dagger. Moving on.
Derp Variation 2
Torso is messy because of its function, which consists of a punching arm. Looks like an animatronic.
MMA Boxing Tank Machine
Presumably the predecessors of the Manas. Build is fairly solid and the metallic skull head looks familiar…
Skull Waddler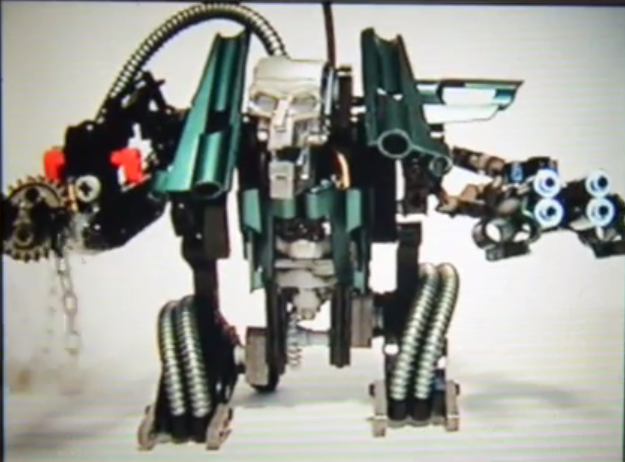 Presumably the "Makuta" figure of the Voodoo Heads line, it is probably the most impressive prototype i've ever seen.
Overall, these guys are a real step up from the Throwbots/Slizers, they had many innovative functions and really kept with the Voodoo/native indian feel more than Bionicle ever did. Maybe a bit too much though…