Alright, well, where do I begin with this one. Firstly, this is a MOC that was made through a bit of an odd turn of events. He's unnamed, and had a one in three chance of not existing at all. To quickly explain how this MOC came to be and how it might not have existed at all, I had 3 pieces I found and had a thought about, 3 pieces that I rarely seen used in MOCs these days, excluding a few matoran sized MOCs of course. I had a red Slizer gearbox body, the lime green Roborider body, and the yellow Roborider body.
I wanted to use one of these in a MOC yet I couldn't decide, so I set up a random number generator with 1, 2, and 3 being the parts to choose, and I left it up to chance to pick the part, a sort of challenge. The yellow Roborider body is what I ended up having to use, and the challenge I gave myself was I absolutely had to use this part in this MOC. I chose to attempt to use that part to make a torso for the MOC, found my Tanma mask while digging for parts, and then finally I remembered someone telling me to try and use CCBS parts a bit more often, and thus this guy was made as a result.
He sadly does not have a backstory, no distinctive characteristics, and no name, I made him entirely as a challenge for myself revolving around one specific piece. However, I'm oddly fond of this MOC for some reason, so much to the point where I am wanting to work on this MOC further in the future to make this my self MOC.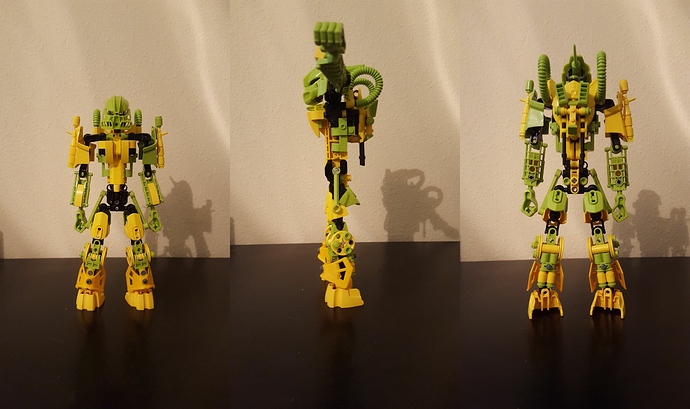 Even though he doesn't have much of a backstory(or rather, any backstory for that matter) or anything of that sort, I really am oddly satisfied with him, although he does need work on quite a few areas, especially the hips since the waist only has a swivel on it, though for the time being I think he looks alright. Figured I might as well put him up and see what others think of him as well.
On a side note, I'm aware of the two red ball joints, and the Keetorange ankle guards which I am ordering replacement parts for those soon, so those aren't exactly going to be staying on him.