Yes.
Apparently it's looking at me too...
Oh, hello Makuta!
He used to be a terrifying villain, but then he took an arrow to the knee... because he wasn't wearing his MAKUTA (TM) branded knee pads! You too can protect your knees like the master of darkness for a low price of only your personal freedom (and shipping and handling). Order yours today!
sigh...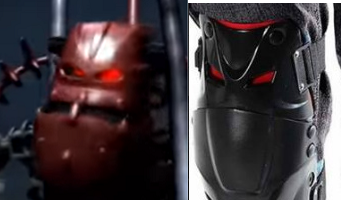 I NEVER KNEW ABOUT THESE
Friends – in several episodes, the 2001 Toa Mata sets in the combiner Toa Kaita forms can be seen sporadically in Joey and Chandler's apartment.
Even Stevens – in one episode, Louis and Beans play with a few of the 2001 Toa Mata and 2002 Bohrok sets.
Malcolm in the Middle – in the episode "If Boys Were Girls", Dewey plays with a few of the 2001 Toa Mata sets.
The King of Queens - in the episode "Friender Bender", the 2001 Toa Mata sets can be seen in the toy store where Doug and Carry are buying toys for Deacon's son.
Terminator: The Sarah Connor Chronicles – in the episode "To the Lighthouse", John Henry plays with a few of the 2008 Mistika sets along with a Lego construct of Mount Valmai. The 2006 story is also discussed. In the later episode "The Good Wound", Henry plays with the sets again. He also says "I wish to know, why [God] didn't use more ball-and-socket joints when he made you.", referring to the Bionicle building system.
Suburgatory – in the episode "Victor Ha", Tessa finds her adopted brother hiding a 2010 Stars set. The 2008 story is also discussed.
Clangers – in the episode "Small's New Star", a couple of Bionicle set parts are present among the junk in the Iron Chicken's nest.
I didn't include The LEGO Movie since everyone knows about that one.
Source: Wikipedia (the Bionicle page is surprisingly well-written & well-researched
)
Have any of you seen any of these references before? And did Wikipedia forget one?
oh god, i remember that.
i also remember cringing my head off at that.
I've heard of the Terminator one.
I had no idea. Do you know if this is the original or the remake?
On a scale of 1 (a bad joke) to 10 (TAKUUUUUAAAA), how bad was it?
I dunno. Just go to Bionicle's Wikipedia page; they link to all of the shows and stuff in the list. I haven't heard of any of these shows except maybe Friends and the Terminator one.
Yeah I read those on Wikipedia myself and found one of the clips in the Terminator show.
I've seen all of the clips. Whenever they actually talk about Bionicle they manage to make it sound dumb. When their just playing its just generic 'WOOSH PEW PEW KABOOM' play. It looks stupid. These references suck.
Hey man, that's how most kids play with their toys. It's cringy, but kids are generally cringy. I read the transcript for the Terminator one and it seemed pretty clever, especially since Bionicle characters are part biological and part mechanical, like Terminators. I think one of them even questions why God didn't incorporate more ball-socket joints into human beings, as those types of joints offer a wide range of movement.
100% of the real kids I've seen don't do that. It's just some dumb stereotype
I was being a bit too general I guess. What I should've said is that when kids play it's generally cringey, but I do agree:

Adults can be cringy too...a few weeks ago I made a makeshift battle scene with my Nexo Knights sets (first time I actually "played" with my sets in a while) simply because I was bored and wanted to test how far those new stud and plate launchers could shoot, and looking back at it, my immaturity was probably cringy indeed (i'm 18 lol), but in my head the battle was epic
. I didn't make any vocal sound effects though...
Ok.
From now on, I'm going to use "I wish you had lime joints" as an insult.
~W12~
Bionicle revolutionized the world.
.
Shoutout to Black Phantom cowering in fear behind Tahu
I like how when he says to not cause any trouble, he holds up a Ninjago figure and a Nexo Knights figure.
Also this pirate thing reminds me of the cancelled Lego Island tv series
I really like this video. For me it represents the passion that some can have for Bionicle.