Yep.
Even though I'm a Gundam noob I know what to do.
I really like the Kimaris Vidar's helmet. It gives me MOUP vibes, which I really dig.
I thought it looked like a seahorse....
Or just like, add them to the cart and convert the currency by using google.
Oh wow....what a novel concept...
I did...we were talking about it on Hangouts...XP
Hi
alright so
I made an order a while back, let's see what it was...
So we've got a 1/100 box, 2 HG's, a decal sheet, and maybe 1 or 2 thin boxes with extra parts. This order rounded out to about $95 USD before shipping.
Now, if you're in the United States, you should have shipping options that look like this.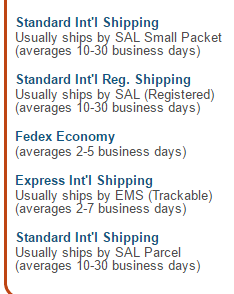 For this order, I went with International Shipping, and it arrived in about 3 days (from Japan to the East Coast!). This shipping was about $45 iirc, and that was for 6 items, three of which are full kits and three of which are dirt cheap to ship. Given that you want two kits, I'd expect it to round out to about $30 for even remotely fast shipping. If I were you, I'd recommend waiting to buy more kits from HLJ. They have awesome prices if you're buying in bulk, but only a couple items isn't going to save much money.
You should be able to just glue the part back on, since the breakage point isn't mangled at all.
I've got a Gundam Discord chat if you're interested
Sure, I'll PM you!
We're welcome to new people. Just know that there's some swearing.
I would also like in on the Gundam discord.
Sign me up as well.
PLEASE.
Gundam models are now being sold in some GameStops. If they're in you're local area please go and support it so they'll be sold more widely.
where'd you get this from?
I heard it on twitter and can verify that it is on their site. The prices are okay considering you buy upfront and aren't paying and waiting on shipping. For our true penny pinchers amazon or hlj may be better.
they still have a website? Never checked
Neither did I until Ketros told me to....XP