When the Bionicle art book was released as a PDF for our viewing pleasure, I was discussing with @Darknova3529 about one particular character, and how it was pretty much entirely made of already existing pieces. So I decided to try to build it, and here's the result! It's fairly accurate, but in some portions I had to change it a bit in order to make the parts connect "legally", or simply because I didn't have the pieces

.
I had to do it

Older images (with more info about the MOC).
The name is inspired by an ancient torture device, full of spikes and blades, just like this MOC.
Now a picture of the back.
And without the chest plate (pretty skinny guy, isn't it).
Here's a closeup of the shooters. It was quite a challenge to build them in a similar way to the concept art, but I think I did an OK job in the end. The blades looked really awkward in the "correct" position, so I decided to rotate them by 90 degrees. The shooter works really well.
And here's a picture of the original concept art, just for reference.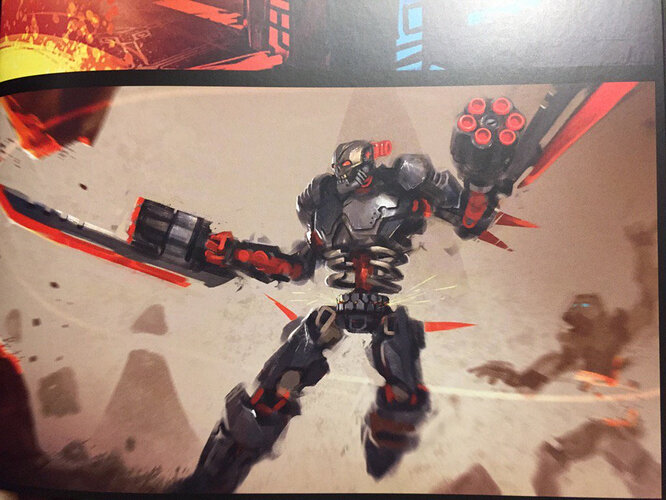 As I said in the title, better pictures are coming soon (at the moment I don't have access to a good camera, unfortunately).
I know @Scarilian is working on the same model too, so I would like to have his opinion on the MOC.