Today, I decided to play around with the Image Overlay feature in Google Earth Pro. Given the canonical sizes of Mata Nui and Metru Nui, I created some size comparisons, and eventually decided that the given size of the Great Spirit Robot - 40 million feet - is far too tall.
All of these images are to scale, and made using Google Earth Pro and official renders at their highest resolution.

Here, we have Metru Nui placed next to the Chicagoland area, my hometown.

Here it is compared to Long Island and New York City.

This is the Coliseum, slightly transparent, overlaid on downtown Chicago, centered on the Willis Tower. I found the Coliseum to be approximately 3 miles from end to end, including the outer towers.

Here is Metru Nui overlaid on Manhattan, with the Coliseum centered over downtown NYC.
Next, I made an overlay of Mata Nui.

Here's Mata Nui in the Chesapeake Bay. I cut out a lot of the water in the original image to make the coastline of the US more visible.

Here is that same image, zoomed way out so you can see the whole US. The island is larger than quite a few states. It's about the size of Indiana.

Here it is in the North Sea, making the comparison to Denmark obvious. It's comparable in size to Ireland as well.

Here it is in the Sea of Japan.

Here, I've made the island transparent, and laid Naho Bay over Chicagoland, showing that nearly the whole city will fit in the bay.

Finally, here is a to-scale size comparison between Mata Nui and Metru Nui.
After Mata Nui, I moved on to the robot that shares its name. Here, I've shown that Greg Farshtey's assertion that Mata Nui is 40 million feet tall must be incorrect, given the canonical size of the island. I've calculated a more reasonable size to be 4925 km, or 3060 miles, or 16.16 million feet.

Here is the Great Spirit, at 40 million feet, overlaid on North and South America.

However, the island of Mata Nui, comparatively, is far too small!
I began to size down the robot until it roughly matched this concept image.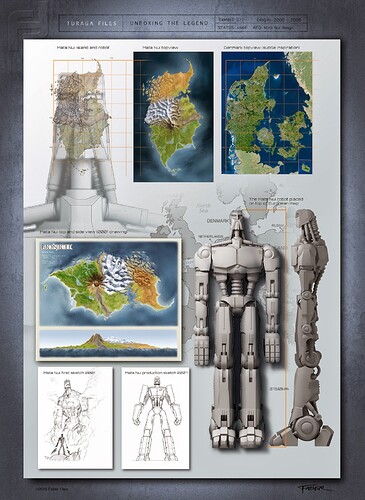 However, because Faber sketched the island over the face of the robot rather than digitally overlaying it, the dimensions are slightly off.

After a bit of work, I got to this point.

Here is an image of the robot at this new scale. Larger than Faber's estimates of 3300 or 3150 km, but smaller than Greg's estimate of 12200 km, this is likely the most accurate estimate of the robot's size: 4925 km, or 3060 mi.

As a fun aside, here is where I estimate Metru Nui to be located.



This is the city to scale with Mata Nui's head. Small brain!
Thank you for reading, and thanks for your time. If anyone would like to see more size comparisons to other Earth locations with these renders, let me know, and I'll happily oblige.