Finally, after two months, I'm ready to tell you about the mask I've been teasing for so long.
My new masterpiece, the Mask of Ultimate Power, is next in line!
Everyone probably had a dream to buy this detail, but the huge disappointment was that it simply was not released

I took the responsibility to make the mask completely as if it had been released by LEGO.
As you can see from the inside, I tried to make it completely the same shape, if the model had completely gone through the process of pouring plastic into the mold, and then found itself among a pile of plastic, in a container.
At each stage of the work on the model, I had a lot of difficulties, for example: the wrong set of references, small errors that do not match the original shape of the mask, unnatural neckline for the eyes, which is only available in this mask, which makes the eye sockets barely visible. there were problems with the inside of the mask, also, I deliberately put Lego rods instead of pistons. In the original model, the pistons are a bit thicker, so I can say that I played along with the wishes of MOCers. And how many prototypes were printed…
The biggest difficulty for me was the form factor, it seemed to me that the mask model was bigger than it should be, and my first printed prototypes were much smaller than the real size. I didn't really want the titan size, but after listening to many people, I decided it was better to leave it as it is.
I decided to contact the real designer of the sets, John Ho, to get some information from him. As it turned out in our dialogue, I did everything right, I will not pull it, everything is even better than I thought.

And even more so - it's a little bigger than CyberHand's titanic mask! If speak about details, mine wins in everything.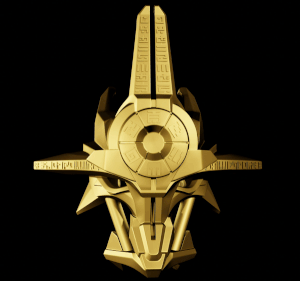 You can order this mask in my Shapeways store, everything is not as expensive as it used to be. Speaking about the features of the mask, now it fits perfectly on the head of G2, and you can also order it in any metal you dream about. I hope you'll enjoy!
Link to the mask with runes: https://www.shapeways.com/product/296EK3GPA/mask-of-ultimate-power-lego-edition-runes?optionId=174706154&li=shops
Link to the mask without runes:
https://www.shapeways.com/product/GVCFJ4HET/mask-of-ultimate-power-lego-edition?optionId=172484286&li=shops