This is how it happened…this is how an Empire Collapsed…
Twenty years ago a land finally emerged from its hiding into the shadows. This land was called the Great Nest of Dragopia. A land with the largest population around the world, including the largest population of Dragons, the mythical, lizard-like creatures who could breathe fire and fly. Its ruler, the Dragon Lord, called Michael Bloodfang was the one that initiated this protocol, because for far too long have they stood in the shadows and watched, watched how races began building villages that turned into cities and then into kingdoms.
And now that they have established their presence into the world, Michael Bloodfang with his servants has begun a world domination conquest. His soul reasons only known by himself and his servants as they took the world by shock with their incredibly powerful abilities.
They almost seemed to be too god-like and nearly unbeatable, but Michael's right-handed man also depicted as simply the Wizard saw that Michael had been corrupted by the power he had. It went up in his head and became someone who was lost in themselves, unable to help him he decided to betray him.
Michael felt the utmost betrayed and he swore that when he will meet the Wizard on the battlefield, he will kill him for his betrayal. Though he was second strongest in Dragopia, first being Michael Bloodfang, he knew that he didn't have a chance against him.
But a group of heroes, a group that will join in as a team that would wander around the world in gaining the powerful, magical artifacts of each Kingdom may be able to put a stop to Michael's reign and put an end to his schemes.
Every world has its story and this one is no different from the other. Join and dive deep into the realm of fantasy, into a world with great lands, multiple magical, mythical and supernatural races and species among the day to day human beings that are either just plain citizens, knights of a brotherhood, rogues, hunters, magic users and many more.
You, dear player, if you decide to join this story you will be able to choose what race, species or otherwise type of character you want to create.
Because you, dear player, will be the silent knife that would stand a chance in putting an end to Michael and his servants, but be careful because the road is one filled with death, pain, suffering and sometimes the odds may be up against you, so do your best!
---
RULES:
Respect and Obey the GM: I admit I'm a beginner when it comes down with being a GM. I may be inexperienced and I will accept, constructive criticism and feedback in case I make a mistake or two down the line when conducting said being GM. I'm not unreasonable but I would like to be pointed out of my mistakes politely, remember people, be nice, play nice and you'll be treated nicely, that is my motto as of today.
But I will not tolerate disrespectful behavior towards me. I'm the GM of this RP, this is my world that I've created. I run this RP and I decide its outcome. Like all other GMs on this site, I wield the same power and authority of the Site Moderators on here and I expect to be treated and respected like a moderator. Know my power and consider what I'm capable of before committing any misconduct.

Respect and Obey the GM's Story and Lore: Being an extension of the above rule. As I'm the GM of this RP who also created it, I'm the one who designed its concept. I designed most of its lore, and this is my Story which you are playing and hopefully make an impact on it, in-game that is. That being said there are some boundaries, more likely, lore-wise that you can't cross. It could be anything and I don't have to give a complicated explanation as to why I don't want you to do something that may change my lore or story. What I've laid so far in front is already set in stone and it may already contradict the already established, being planned lore. And so please respect my wishes. If you have an idea that may affect the story, I would sincerely prefer it if you approach me first about it before you implement it. It makes things a lot smoother and I can even help rework your idea into something better-fitting. It's much better than just you out flat reveal an earth-shattering revelation or perform some grand event that goes against my plans and then me having you retcon and change it.

**Respect the Story and Lore of other Players:**This rule is pretty much the same as the above one, except it applies to the lore and story of other players that have already been established in my story.

No Overpowered or Ridiculously Powerful Characters: You are allowed to make a character that is a powerful being in general. You will certainly not, be able to one shot and dodge a never meant to be dodged an attack from a Boss. You'll not be guaranteed everyday success during this RP because it adds a bit more conflict to the Story and it makes the Villains that much more frightening because they are that much more powerful and so the success in defeating them is satisfying at best. However, I do want you to make a balanced character that is not blatantly unfairly more powerful than the most other characters. Be creative but don't do OP or Mary or Gary Sue characters, make them creative, let your imagination flow through your mind and make them unique as you can make them. You people are very creative so I trust your creativity for the most part. Create something you'll have fun with but not at the expense of other players' enjoyment.

No Autohitting, Autododging, Godmodding, Metagaming and so on.

Follow the Basic Human Common Logic: Just because I may not include everything that is or isn't allowed in the RP, it doesn't mean that you should exploit the loopholes. I'm not stupid. So if I don't say "don't control characters that don't belong to you without permission" for example, it doesn't mean that you can. Do what you think is morally right, respectful and within the proper boundaries.

Respect Others: Even though an obvious and self-explanatory one. From also personal experiences, I want to spell this out. OOC discussions will be kept civil and respectful. I will not tolerate any kind of name-calling, insults, harassment or anything else of that kind. If you feel there is a problem with another player. Talk to me so that it can be properly dealt with. I will not be making an OOC PM for this RP. This Signup Topic will serve as the public OOC thread. So keep in mind that all OOC interactions between players are now public to be viewed by anyone and everyone on this website.

No killing or seriously maiming other characters without player consent.

Players are limited to have a maximum of only four characters at a time: Keep the old maxim of "quality over quantity" in mind. So do not waste your slots with mediocre characters out of some need to fill all four.

I would like for you guys to keep your character sheets up-to-date: So that throughout the game. It will be much easier for me to access them for reference. Though I won't be enforcing this, it's just merely a request.

No Villainous characters, please: I will be running the Antagonist side, I and Myself alone. You don't have to make your characters to be Great Paragons of Virtue and Morality but I do not need help in the antagonist department. If it wasn't obvious, your characters are the heroes of this story.

Please keep things within the realm of PG-13 both in the RP and on this Topic.

Please refrain from making OOC posts only in the RP

Actions: If your character gets themselves in a situation that are most likely going to die, or are going off against impossible means because they are not ready yet. They are going to die. Period.

Narrative: Your actions and decisions affect the story, for better or worse. There is no guaranteed happy ending. if you're going on a path that leads you to defeat, you are going to lose, if you play your cards right, you win and get the good ending. Just remember every action and decision your character takes, affects the RP for better or worse. So think wisely before conducting such actions.

Group RP: I thought this was obvious, but certainly it isn't. This RP is a GROUP RP so this means, your characters will be stuck with my NPC because they are the only ones who can lead you through this hostile world. Creating characters that are not team players for whatever reason, it is not welcomed. I understand the lone wolf that is not dependent on my NPCs but still rolls with them, for the greater good cliche, to save the world. But other than that it is not accepted.

Other standard RP and Boards rules apply here as well.

Failure to abide by these rules can result in your removal from the Collapse of an Empire RP or the involvement of the site by Staff and Moderators if necessary.
---
About the RP
Now you'll probably be asking. What is this kind of RP Michael? What can I do? What character I can create? And so on. Well, it's easy really, the setting is High Fantasy RP which means that's kind of like D&D if any of you guys have played before or know about it.
But to put it much simpler in this Fantasy RP you can play a human, mythical, magical or supernatural beings, races or species that have powers or magical abilities. It's heavily magic-based and has some inspirations here and there but what ultimately made this RP possible was Overlord anime which I've recently watched and so it inspired me to make one like that but different enough from the source to make it its own thing.
---
Map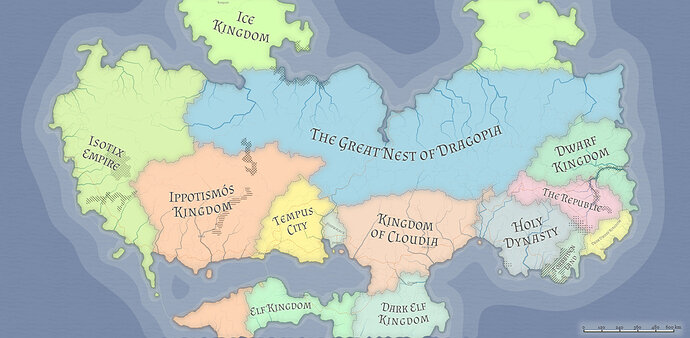 The map is made by me by using Azgaar's Fantasy Map Generator. There are 14 Lands in total and they are as followed: The Great Nest of Dragopia, Isotix Empire, Ippotismos Kingdom, Kingdom of Cloudia, Ice Kingdom, Dwarf Kingdom, Dark Dwarf Kingdom, Elf Kingdom, Dark Elf Kingdom, Tempus City, Holy Dynasty, The Republic, Starwalker Tribe, and the Forbidden Lands.
---
---
Character Sheet Template
Name:
Aliases:
Alignment: (Such as True Neutral, Lawful Good, basically D&D Alignments.)
Affiliation: (To what your character is affiliated with, like Kingdom, Brotherhood, something in those lines)
Home: (Where your character originated from)
Race: (It is D&D inspired, so it can be a Dragon, Elf, Dwarf, Human, Angel, Demon, Vampire, etc.)
Gender:
Age:
Apparent Age: (It's more about the physical age. Pretty much every race except the Human race gets this section. Though if you make a human that looks younger or older than he is, by all means.)
Eyes:
Skin:
Height:
Weight:
Build:
Hair:
Appearance: (I would prefer it if you use a picture to describe your character. Of course, if you can, if you find the source of the Artist's artwork, please credit the Artist and if you are very good at giving me a plausible description of your character then do so)
Accessories: (Something that defines your character, like a hat for example, or glasses, get what I mean?)
Personality:
Equipment and Weapons:
Powers and Abilities:
Backstory:
---
Also special thanks to @L.O.S.S-KAL and @Bramsley with helping me out with this RP, with its artwork and story-wise decisions. Also special thanks to @Mctoran with the rules.
---
Accepted Characters:
---
---
---
---
---
---
---
---
---
---
---
---
---
---
---
The Lifecycle of Dragons
Hatchling (1-10 years): During these years the dragon does most of its growing gaining approximately one foot of height per year until they reach six feet tall. Their wings reach the proper ratio and the length does as well.
Broodling (10-50 years): Considered the "emotional" formative years the young dragons continue to grow and mature. Final scales are hardened and the dragons reach full size. (Full size ranges from 6-15 feet tall).
Adult (50-500 years): At the full size and considered mature the dragons are now taught the "spiritual" part of their life. They often gain bony protrusions, horns, and tougher scales since this is the only phase of their life when they are not actively getting larger.
Prime (500-1000 years): If a dragon survives this long they enter the second phase of growth, adding as much as 3-5 feet in height.
Senior (1000-5000 years): The second stage of growth continues. New magics are learned including astral phasing. The dragons can reach a maximum height of 30-35 feet.)
Elder (5000-death): At the full size and maximum skill these dragons are nearly unkillable and can live out a full life of 10,000 years or more. They begin to age and weaken at around 7,000 years.
Note: Your age limit to your Dragon character is to Prime age 500-1000 and no more. Because Dragons grow stronger as they age and I think for you guys the age of 1000 is enough.
---
The Main Protagonist Side of NPCs
---
The Servants of Lord Bloodfang
---
The King and Queen of the Great Nest of Dragopia
---

The Mighty High King of Isotix Empire, Vercingetorix MacLeòid
---
The RP