It'll definitely gain more support now! We're almost half way there, and after just a few days!

Don't know if anyone already saw this.
I cannot believe my eyes.
Brickset hasn't been known for promoting LEGO Ideas projects, so seeing them do it for this project is unbelievable.
This has gone better than I think anyone could possibly have imagined. We might have a winner here.
@Sokoda For how much do you think it would retail if it were accepted?
At least 60$, just by sheer part count.
I'm curious as to what LEGO would change. My guess would definitely be a limitation on the printing detail, and probably some changes to the brick-built figures.
Yeah, there are always some people who don't like it, not sure if box design… will change his mind, he clearly doesn't care for Bionicle, but I mean that's ok, it's not a model for everyone, it's a Bionicle tribute
@LegoDavid it's very hard to tell, my piece-count is quite high for the size of the model, which is a result of using a lot of small pieces for the miniature details. the part count definitely could be reduced though with very similar results. But all the guessing won't help too much anyway, because the price will change when Lego does changes to teh model.
Steamboat Willie for example is way bigger than the original ideas model
@ToaNoah_Wafflemeister, I don't really know, probably some prints, part colors… sometimes the models change quite a lot, so idk
Staff member FlagsNZ posts an Ideas Showcase article on a semi regular basis to raise awareness of particularly interesting projects. The site also got behind a Queen Victoria ship model designed by FlagsNZ himself which got 10,000 supporters but did not pass the review phase. However, more recently Huw has posted support articles for a typewriter submission and now Sokoda's work.
But again, I am extremely impressed at how quickly the project has accumulated support and I am excited to see it encounter continued success.
Found this on r/Bioniclememes on Reddit.
(Click to see the whole thing)
Also we're up to 4,771! Almost half way there!
Well, you have your own meme, a wildly successful Idea's project, and over 4,771 supporters. How does it feel?
Pretty awesome! No matter what happens, I'll always remember this very fondly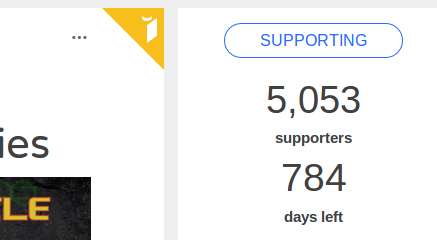 Woo-hoo! It's halfway there!
-Cues Bon Jovi frantically-
Congratulations, @Sokoda!
Oh!!! We're half way there! AAAH!
This is great! What has it been? 6 days? I predict 10,000 before the month is out.
This project is getting almost 1,000 supporters a day
I predict we will get there is less than two weeks.