My goodness, I remember the ads for the "bob the builder" duplo sets.
AH MAH GAHSH
BOB THE BUILDER
My childhood in Duplo form
The most beautiful man known to mankind.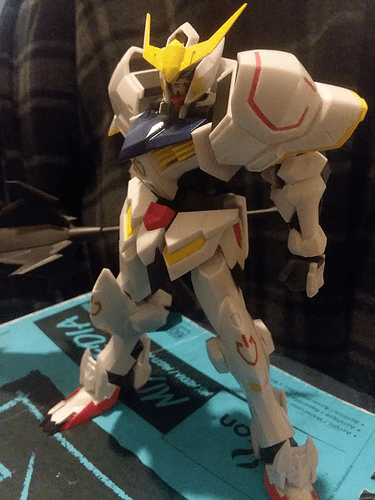 Gundam Universe Barbatos.
I was curious about the quality of these figures.
They look great in whatever pose you can get them in, but their articulation is…
subpar.
Yep. If you can afford tamashi nations get those figures instead. I have the universe wing gundam and tamashi IBO kilmaris; the only difference is size , articulation, and price.
The main problem I think is the hips; the skirts have the similar issue as the originals toys that they don't move as much as needed so that joint is next to useless.
My sister has one of those, it always gives me Oobi and Uma flashbacks.
Wait until you see the foot.
I don't think I want to see that.
You don't. That episode was supposed to give a message about not judging people for their differences, but I think the message was lost in the delivery.
Tamashii nations look amazing, I just don't usually have the money.


Plus this was an experiment, and honestly I'm glad I bought it. It's a nice little thing.
Same here. They're nice but definitely more of a display figure then a toy.
The S.H. figuarts of Gundam.
Just got a pair of 3D printed Praetorian helmets to complete the set, now just to paint/get another Praetorian to complete the 8-man group.
Galidor may be dead, but the idea of frankensteining unrelated objects together is still going strong.
girl actually. Neat anyway.