Makuta Vyrdran.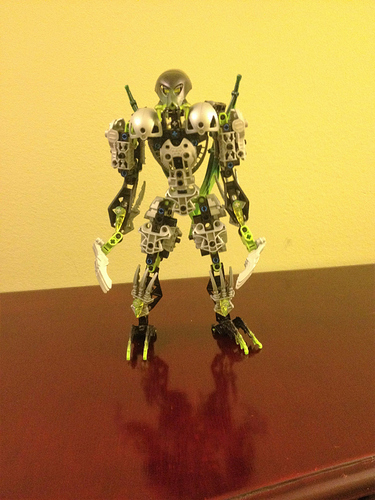 Makuta Vyrdran, like the other members of his species, was created from antidermis by the Great Spirit Mata Nui to serve as his peacekeepers inside the Matoran Universe. Soon after he was created, Makuta Miserix proclaimed Vyrdran the "chamberlain" of Destral, charging him with the upkeep of the fortress. Vyrdran was satisfied with this, until such a time when he was called to fight in the battle against the Barraki, where he was a lieutenant in the assault on Ehlek's stronghold. After being given his first taste of battle, Vyrdran desired more. This desire would continue to fester until Teridax announced "The Plan." When the time came, Vyrdran sided with Teridax, believing that maybe under his rule he would get to see some action. He was correct, as Teridax sent him immediately to the landmass native to the Skakdi to collect a powerful artifact, a weapon that could be used to absorb the elemental powers of Toa. After fighting off the natives of the island, Vyrdran found what he was looking for. Unfortunately for Vyrdran, the weapon had been charged with the elemental powers of the Skakdi that Spiriah had experimented on. When Vyrdran went to grab the object, his contact with the weapon caused it to overflow with energy, and it released several Nova blasts worth of power, destroying the chamber and killing Vyrdran instantly.
Tools and Abilities
Makuta Vyrdran wore the kanohi imgae, the great mask of reflection. It's power allows its user to see or emerge from any reflective surface within a 35 kio radius.
Aside from his mask power, Vyrdran had access to all 42 kraata powers, with near mastery of the power of electricity, as well as the element of shadow. He carried no weapon, as he was never really in combat, so he believed his claws and enhanced elemental connection were enough to deal with his opponents.