[All entries done - the public phase of the project thus is finished]
The Makuta, one of the most powerful species in the Matoran Universe.
They were creators of Rahi, enforcers of order, the protectors and the bane of the Great Spirit Mata Nui.
At the beginning, there were 100 of them. 85 male and 15 female ones. Yet just a handful of them are known …
(picture by @Scorpion_Strike)
And here's my idea:
As I know of no list of all the Makuta, neither official nor inofficial, what about if we make one? All 100 Makuta, as a Brotherhood as it was at the beginnig, everyone of them with his or her own story. And of course accompanied by a MOC of the Makuta.
One person alone could'nt hope to achieve that in a reasonable amount of time, I guess, but as a community … There's hope.
If you want to participate in this project, please take a look at the rules and if there are any Makuta left in the "to be assigned" category beforehand. You'll find both below. If you then decide to build a MOC, please tell me and wait for an OK from me before you post anything in a seperate topic.
Please don't upload pictures of your finished MOCs on this topic. There's also no need to link your MOCs below, as I will do so on the list, when they're finished.
If you haven't got a reply from me or if your MOC didn't show up on the list after two days, you're welcome to remind me.

After all, it can happen, that I overlook someone.
---
Here's the current list:
= drawing done (100/100) - see here

= "Book of the Brotherhood" entry done (65/100)

= revamp done (clicking on the symbol will take you to the topic) (17/100)
Both, the drawings and the "Book of the Brotherhood" entries will be posted once the project is complete. For more information see post 374 and 470.
A group "shot" of all entries you can find down here.
For more information about those revamps see post 849 as well as the Antidermis pool WIP topic.
Male Makuta, accepted - occupation - builder
Female Makuta, accepted - occupation - builder
86) Gorast - warrior - Gringat

87) Kindrix - Rahi scientist - Gilahu

88) Kraiden - warrior - Payinku

89) Isthra - warrior - 21sselliW

90) Vadkanda - warrior - Windfall

91) Scarla - warrior - Chicken Bond, Uploaded by Windfall

92) Thorkahn - warrior - JMP

93) Ahkaxx - Rahi scientist - MakutaTexxidos

94) Mazla - Rahi scientist - Povak

95) Akima - ~warrior - The_Wanderer

96) Nebunie - Rahi scientist? - MysteryMuffin

97) Rerekei - Rahi scientist? - Cyclopian

98) Yandra (Aegis in MOC topic) - poison expert - Aegyptiacus

99) Syrai - scribe/secretary - Maarlfox

100) Vulon - "problem solver" - AdamusTheFirst
To be assigned
---
Notes:
The five Makuta who sided with Miserix at the convocation are all done already.
The two Makuta who were kept by Teridax to create Kraata after he took over the Matoran Universe and were later killed are done already.
The Makuta who was killed by Toa Zaria is done already.
@TFM101
What about that update on your Krika MOC?
---
Here's a new map, provided by RSG and edited by me. You are free to go into detail about your Makuta's region in your MOC's backstory, but I can't promise that RSG will go along with that. Since currently they don't have much information either, it might be possible that whatever you write will get accepted in RSG, too. If not, changes will be made, although I'll always try to speak in your interest.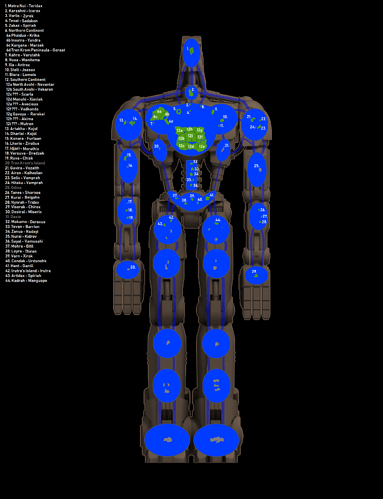 (rightclick and open map in new tab/window to be able to zoom in)
? behind the island name = to be assigned
grey = not to be assigned to a Makuta
Notes:
If I got anything wrong, please tell me.
---
Rules
Click to expand

CONCERNING THE MOC:

1) Makuta wear Kanohi
Your MOC should wear a mask or have a head that looks like a mask.

2) Good design
Your MOC should look like something you spent some time on. It needs a proper colour scheme and should also get the "Makuta look" across. Some other things I like to see when looking at a MOC:

good colour distribution
custom torso (custom limbs are also always well received)
proper arm and leg articulation - especially on hips/shoulders
few gaps
creative but not oversized weapon/tool designs

3) Colour Scheme
Makuta as beings of Shadow should not have a colour scheme associated with Light. You can use gold pieces (if you really have to) or white armor, but no white and gold
colour scheme.

4) Titan Size
Ideally your MOC should have the complexity of a Titan build, although I'm somewhat tollerant in that point. Have a look at my Makuta MOCs if you want to get an impression of what I deem perfect in that regard.

5) "Original" Form
The Makuta should be humanoid and not mutated. This means they should walk upright, have exactly two legs, one head and a minimum of two arms. You're allowed to add more arms, wings, tail(s) etc.

6) Picture Quality
At least the main picture of your MOC shouldn't be too dark/too bright/blurred and such. Everyone should be able to tell colours apart and see details.
I require at least one picture from the entire MOC from the front, posed or neutral. If posed the pose shouldn't obscure too much of the MOC, though. Again, look at my MOCs and revamps in order to see what I'd deem ideal in that regard.

7) CCBS and Technic
This is a project that aims at creating G1 characters. It would make me extremely happy if you could use no CCBS parts for your MOC.
But since the era of the G1 building system is 5 years gone and some of you understandably don't have any/very few G1 parts, CCBS MOCs of course will get accepted, too. But please at least consider using no CCBS if you can. Thanks.

8) Custom parts
Your MOC should only consist of official Lego parts. Exceptions are: Kanohi and everything you make out of cloth (wings, capes, etc.). Modified parts are allowed (but not encouraged).

CONCERNING THE BACKSTORY:

1) Kanohi rule:
Your Makuta aren't allowed to wear the following masks (again, just to be sure: Your MOC can wear any mask you like, you just have to say that it is a different mask in that case):

Avsa, Mask of Hunger
Mohtrek, Mask of Time Duplication
Shelek, Mask of Silence
Jutlin, Mask of Corruption
Turatatu, Mask of Fear
Pakari, Mask of Strength
Kiril, Mask of Regeneration
Matatu, Mask of Telekinesis
Kualsi, Mask of Quick Travel
Mautru, Mask of Mutation
Hau, Mask of Shielding
Akaku, Mask of X-Ray Vision
Maraui - Great Mask of Analysis
???, Mask of Rage
???, Mask of Elemental Shielding
Ignaku, Mask of Parabolic Vision
Isima, Mask of Possibilities
Efemutu, Mask of Prototransfiguration
Faxon, Mask of Kindred
Volitak, Mask of Stealth
???, Mask of Memory
???, Mask of Aggression
Tryna, Mask of Reanimation
???, Mask of Convenience
Whethron, Mask of Seismic Sense
Koromau, Mask of Rahi Control
Aiykha, Mask of Scavenging
obviously not the Kraahkan, but also no mask that is "shaped like a Kraahkan"
no masks that just exist in very limited numbers (Olmak, Kanohi Nuva, etc.)

This doesn't apply to already accepted MOCs. It doesn't apply to canon Makuta with known masks either, of course, but it does apply to those whose masks aren't given.
There might be Kanohi added to this list from time to time, so be sure to have a look before uploading your MOC.

2) Canon story rule:
Your Makuta has to die before the entrance to Karda Nui is discovered. That would be around the time Jaller and his friends set out to find the Toa Nuva.
(the "no longer Makuta" side paragraph doesn't work anymore)

Again, this obviously excludes canon Makuta, whose fates we know.

3) Dark Hunter - Brotherhood of Makuta War Rule
No more Makuta are allowed to have found their end through the hands of the Dark Hunters after outbreak of the war (shortly after Mata Nui was put to sleep)

4) Makuta kill Makuta rule A
Your Makuta isn't allowed to kill another Makuta except if you do another Makuta MOC which is killed by the first one in its backstory. If so, tell me and that first MOC will get accepted as soon as the second one gets accepted, too.

5) Toa kill Makuta rule
Toa aren't allowed to be directly responsible for your Makuta's death.

6) Death through the Order of Mata Nui rule:
No more Makuta are allowed to have died through the hands of the Order of Mata Nui. The exception are canon Makuta.

7) Makuta kill Makuta rule B:
If your Makuta is killed by another Makuta, I (Gilahu) might request you to change the killer's name if I feel like this Makuta already killed enough others or doesn't fit as killer. You're allowed to use every Makuta accepted into this project as killer, as long as it makes sense (in my eyes).

8) Warrior rule:
Your Makuta isn't allowed to be a full-time warrior or best known for his/her fighting abilities. Your Makuta is allowed to fight in the battle against the Barraki, but should not play a major role there.

9) Rahi creator rule:
Your Makuta isn't allowed to specifically create only/mostly dangerous Rahi, very big Rahi or try to create anything other that is particularly big and/or dangerous. This includes weapons.

Other things

Reserving Makuta

You can only reserve one Makuta at a time. As soon as that one is accepted you may claim another spot if one is available.

2) Creating an entry

As every one of these Makuta MOCs is a, well, MOC on its own, they should be posted seperately from this topic to have a better overview (their names are nonetheless listed here)
Preferably name your entry to this project The Brotherhood of Makuta - "Name of your MOC".

3) Entry design

The first lines in your Makuta's topic should ideally be a quick overview over the Makuta (for example):

Name: Jarnat
Assigned region: none
Kanohi: Efotaui, Great Mask of Fire
Status: Dead

If you want an example of what I would otherwise consider a perfect entry, have a look at my Makuta and Makuta revamps (linked above).

4) Deadline

You have three months to submit your entry. If you don't manage to submit it in time you will be removed from the list. You might be allowed to join again after some time if you like so long as no one has claimed your spot in the meantime. The exception to this is if you can show me serious WIP progress on your MOC which might incline me to give you more time right away.
---
Backstory help
Click to expand

If you need help with a backstory, I'm always ready to help.

Here are some suggestions (thanks to @E44 with helping out here) (please tell me if you want to use one of these if they regard a specific backstory):

a Makuta who was Destral's Communications officer

You can find a timeline about Brotherhood stuff in post 1275 - it might give you an idea for how Makuta died and what happened when.

---

Death sources:

the Makuta evolved into gaseous Antidermis about 30,000 years after Teridax's takeover, so up to that point they could die by simply stabbing them with a pointy stick in the right place. After the evolution it wasn't so easy anymore
---
There might be things added/removed here from time to time.