While the discussion topic has been closed, I would like to throw in my two cents into the matter of weapons for the Toa Hagah canon depictions. Specifically speaking on the topic of spears, they need to be spears.
I should clarify this point. It is clear through Bionicle's run that some weapons have gone by names unfitting to real-world depictions of those objects. As mentioned in this line from the ruleset feedback topic:
We make no restrictions on spear-tip usage. Plenty of things in BIONICLE have gone by names other than what they actually are. Norik's spear tip, for instance, is an aqua- axe. As such, I say go open season with that.
However, I must interject with one question- how does a weapon function? While Bionicle weapons are factually misnamed, ultimately they function in a similar manor.
Now, I may not be a weapon expert of much any kind, but to me a spear is a longer staff weapon with a tipped end to be used for jabbing and piercing things at a distance. Take the example of Norik's spear. While the piece is called an axe, as it has somewhat of a tipped end to it, it can function as a spear tip. In the same way, I know of many other existing pieces that can fit this motif, such as Kopaka Mata's Ice Sword. My point in summary, any object that doesn't have reach and can't be used for a jabbing, piercing attack should not qualify as a spear.
However, I will not argue against other weapons being used (to an extent) in the individual contests. Overall, disregarding the restrictions of what could be considered a spear/spear head can lead to a great amount of creative diversity, which I whole-heartedly encourage. What I enclose in this topic is rather one suggestion: let the final art designers fix the Hagah's staffs to fit the motif of a spear.
For example, here are two Seismic Spear designs I have seen.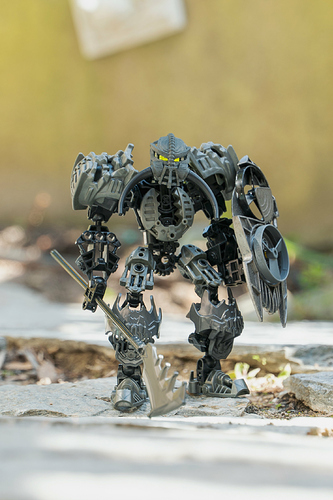 The silver Bomonga has a sharp hook weapon while the gunmetal one has a sword on a stick. So, should they be discounted? No, absolutely not. Through small modifications, art can keep the overall style of the brick-built weapons while making them fit a spear-like functionality.
Here are a couple of quick sketches I made based on these. Keep in mind; I'm no artist, so these are purely representative of what could be an even more beautiful interpretation for the Seismic Spear.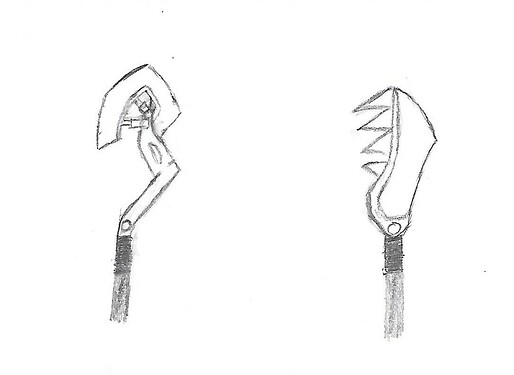 By ensuring these are balanced and have a tipped end, these sketched weapons can act like a spear while maintaining the overall structure of the brick-built templates.
All this being said, when it comes to staff weapons which are large on horizontal striking, such as pickaxes and scythes, I don't know if there would be a way of fixing them without changing the base frame to a great degree. As I could see a lot of backlash coming from art changing weapon designs in such a prominent manner, I would recommend that these types of weapons shouldn't be allowed for the individual rounds.
I hope that my fellow Bionicle community members can see my argument and come to agree with me. This is a largely important matter that I honestly don't think I would be able to overlook. But, whatever happens during these contests, we should all try to come to accept the results as canon. Thank you for reading my rant about spears in Bionicle, and good luck to all competition entrants. I look forward to seeing what excellent creations come from all this.