The sheen of steel. The flare of muskets. The smell of gunpowder filling the air.
The land of Sadnadia was forever changed with the finding of gunpowder, and with the advent of new weaponry, such as the musket and the flintlock pistol. While still in use, the traditional weapons of steel were rocked to their cores upon this introduction, and tensions between rival groups were further escalated by the more violent uptakers of this new technology.
Many countries, both small and large, call this continent their home. However, the two largest players are the countries of Marsada and Nikidia, who have been locked in war for the past many years. Recently, a large city near the border by the name of Kenasa was captured by Nikidia, and is currently occupied. However, due to how many times it has shifted control(to the point that no one even remembers who originally controlled the city), each side has sympathizers within the walls of the city, and this most recent occupation has resparked the conflicts there, trouble brewing within and below the streets…
Signup:
Name:
Gender:
Nationality:
Appearance:
Weapons/Materials:
Bio/Personality:
Other Stuff:
Nationality: Other than the big two, there are…well, I don't know how many. You can help fill out the map if you want, with visiting characters from another country, or what-have-you. I'll list all the countries other players have made below as well, in case you wanted to know about that.
Setting: For the most part, this RP will take place within this city, but I'm not opposed to going out into the surrounding area or other nearby towns and villages.
Day/Night: So, days and nights progress, and I can't always be here to say whether it has become day or night. As such, we'll have a system where the day changes every so many posts. I will update this and the topic itself with the count once I've determined it, as I'll wait until I see how many people sign up and how active people are to determine it.
Rules:
Just a short list of dos and don'ts.
Here's the Don'ts:
-Bunnying.
In short, the act of bunnying is moving your character or other characters along at a rate faster than would be considered reasonable. It's not a wise idea to do that.
-GodModding
This is where you twist events going on in an unrealistic and unfair manner towards your favor, and tends to happen the most during fights. If at all possible, avoid this. Repeated offenses to this rule are likelier to result in a punishment.
-Disrespect
The GMs and especially the site Mods have authority here, and their word is not to be taken lightly. If you think one GM steps out of line, let another GM know about it. However, as the GM, if you feel there are some shortcomings on my end, just let me know in a civil manner, please. I see nothing wrong with constructive criticism.
And, of course, some dos.
-Play Fair
If your character dies, then that's life. Don't form some kind of childish grudge against another player for it. While this may be something that you're not used to, it can add some added interest into a game and add some risks to playing recklessly.
-Respect Other Members
Oh, Joe beat you in a fight and left you with an arrow through your arm. Well, he played fair, and in this circumstance, won. No need to form an on-site grudge against him; he was just playing by the rules and so were you. Either his character was a bit more powerful than yours or he's just a bit more skilled at RPing. Take the arrow out of your arm and maybe bandage it, and don't forget about it, either.
-Never Forget Wounds
If your character breaks an arm, and an in-game week goes by, the arm's not magically better. Don't let yourself forget wounds of lasting damage. Realism is key, and if you're interacting with other characters later on, your broken arm might be a conversation starter.
(Help with rules courtesy of @Ghid.)
-And The Things That Go Boom.
Now, for how the guns will work.
-You can only shoot one bullet a post, and you have to specify that you've reloaded before you can fire again.
-Being that these are early firearms, keep in mind that they aren't very accurate, so they aren't an insta-kill weapon. On the other hand, though, don't think that means you can perfectly dodge every shot if you're being fired at.
---
Okay, now that that's out of the way, this is where accepted characters will go:
[details=And the countries so far.] Nikidia- A country who's main exports are war and weapons, particularly steel weapons. Locked in a long series of wars with Marsada. very loosely based on medieval to industrial France
Marsada-Very similar to Nikidia, a nation built by war and kept through war. Very loosely based on Britain
Gathens-A nation of great trade, built by the riches it is so good at collecting, on both the pure and less-so markets.
Dezima-A technological and industrial titan, built on the back of a desert. It was them who made the advancements that would lead to these new weapons: firearms.
Ardonia-A far off nation currently in the toils of civil war.
[/details]
MAP: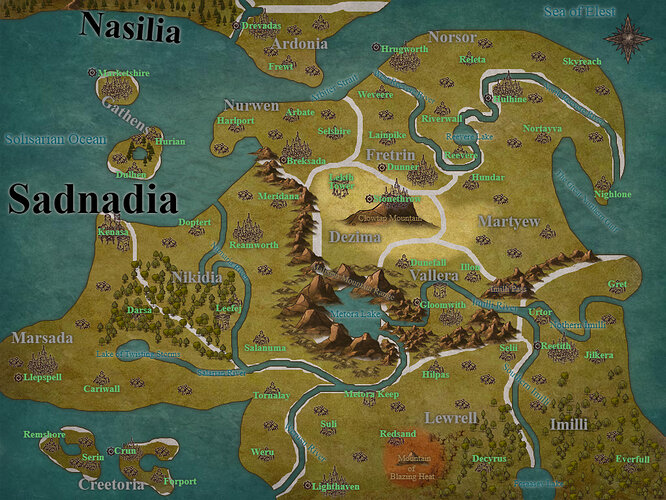 BIGGER MAP: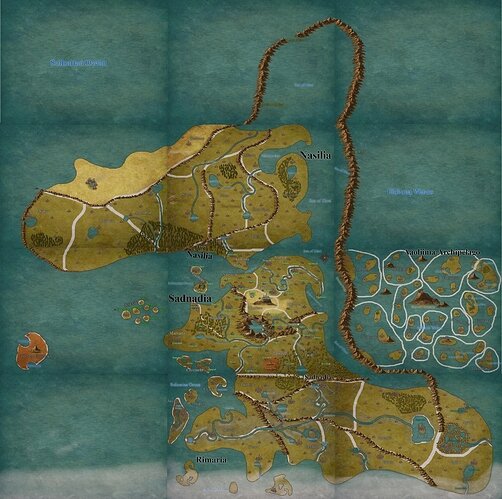 The culture of the more pictured continent was originally meant to be more European inspired, with some other little flare added in(for example, the architecture is a little bit more fantastical, specifically in Kenasa: brick paths arching between the tightly packed buildings, with large common areas built on the roofs of the shorter buildings, all over cobble roads, building just as much up as it usually would out.)
The northern continent could be based on either eastern/middle-eastern cultures, or even more Native-American or Scandinavian inspired, I hadn't really decided yet. it shouldn't matter for Ardonia, though. It's geographically close enough to Sadnadia to be culturally similar if you want.