This argument is probably the most coherent and sensible case for Sanorde I've seen. However, it hinges on a premise that may or may not be relevant depending on information we simply don't have:
This is an important point, and the Nuju analogy is pertinent, but depending on the limits of Psionics-based telekinesis and the amount of control Toa of Psionics have over this power, this may only impact Orde in very specific situations.
Let us consider a few situations. First, let's imagine Orde is fighting one guy, and only that one guy, and he throws a small rock. With telekinesis, he can manually make it hit home no matter what his enemy does, but only if the following conditions apply:
Orde can make the object move as fast as he needs to. If he can apply enough force with telekinesis to make anything fly at the speed of a bullet, the object is harder to dodge; but if he can only push with telekinesis with as much force as his own muscles, projectiles will move relatively slowly.
Orde can change the object's velocity with minimal effort. Objects don't change their direction or magnitude of motion unless acted on first. Ergo, if Orde needs to put in more effort to manually make a projectile hit its mark, that's going to impact how much the Sanok helps him.
In short, the question is: how much "physical" strength does his telekinesis have? Because if Nuju's use of the Matatu is as good as telekinesis gets in the MU, then the Sanok still has its uses, but it might actually be stupidly OP on Toa of Psionics because. Y'know.
This is the other important part of the equation: does the Sanok do this better than other masks? Because, ultimately, a lot of Kanohi are redundant to telekinesis in some way. (thanks greg!!!) A while back, I screenshotted BS01 and crossed out pretty much every Kanohi that would be redundant to Psionics-based powers (plus the masks Orde logistically couldn't have, like the Makuta masks; I missed a couple Makuta masks by mistake). I apparently forgot the Huna, so pretend it's crossed out.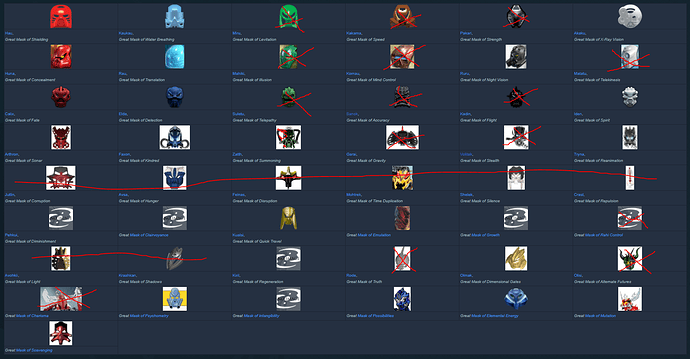 Some of these are, again, indeterminate because we don't know what you can bench with a Pakari vs. what telekinesis lets you do, but if we want to play it safe, you can just take whatever masks aren't crossed out here. And, given that he apparently has a mace (when did Greg say this?), we may find it more useful to think about what Kanohi work with that rather than trying to work around his element.
A Sanok does, in fact, make sense with a mace. Normally, because of their weight distribution, maces don't make great throwing weapons compared to axes or knives (but thrown maces WERE a thing in some cases, i.e. Byzantine military tactics), but a Sanok plus an extra telekinetic push would make Orde's mace potentially devastating, and he can use his element to return it to him a la Mjolnir. However, while his mace is thrown, Orde is unarmed, which leaves him vulnerable for the reasons you mention about Psionics's combat potential.
There are, however, other options that don't come with this weakness.
The Kualsi would allow Orde to wind up for a swing before having to actually get near his target, then teleport and complete the attack to catch the enemy by surprise. Even if the enemy's expecting it, he can feint to fake them out and then teleport.
The Faxon could give him relevant Rahi powers that his element doesn't cover. The mask is just downright OP.
Maces are dangerous in part because they can concentrate a lot of force over a small area of impact. With the Pehkui, Orde can turn this up to 11.
The Mask of Emulation can compensate for his lack of physical power against stronger foes. The Calix can offer something similar, but Varian already has one, so it'd be redundant for him to have one.
The Zatth has a question mark on it in my screenshot because I'm not sure if Orde can reach out and just make any nearby Rahi show up to the party. That said, it doesn't enable Rahi control, but Psionics would in many cases.