I know the inorganic Suletu has never released, and unknown.
and Also, I know Greg's reply that "Basically, the appearance of Kongu's Suletu is almost the same as the regular shape" .(source is here, etc…)
but I have a question to your great knowredges!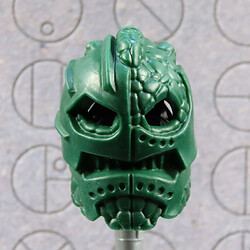 I have previously seen some Greg's answers, it measns about:
"whether a non-organic Suletu is symmetrical depends on whether you consider the scaly areas present on Kongu's to be the result of alteration" ( This answer's source has be find out. Here.)

"Kongu's Suletu was may damaged by being abandoned outdoors for a long time, which may have affected its appearance during alteration" (Still hasn't found source)

"After all, About Inorganic Suletu's appearance, I'll leave it to the imagination of the fans."(Still hasn't found source)
I am big fan of @MaskMaker(KhingK)'s Suletu, because when I saw this, I felt that the design so matches with those 4 answers.
but I forgot those sources. If you know where is, please tell me!