My submission for the Helryx Art Canon Contest. As you can see it mostly inspired by comic style. In my eyes it's the best way to show BIONICLE world in the 2006 - 2010 time period. Many fractions, many events, alternative universes… feels kinda 'comic' to me (since Greg Farshtey was a big fan of DC/Marvel iirc).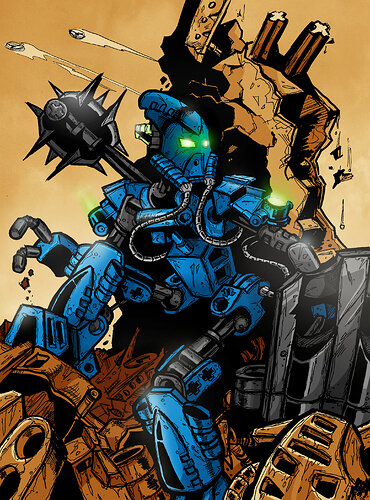 Since Helryx is 'proto-Toa' I decided to connect her mask design with 'ancient' BIONICLE/Technic parts from early 00s.
Without text:
Spoiler

http://www.brickshelf.com/gallery/NikitaNikolsky/Archive/without_text.png
And finaly some stages of the working process. Yeah, the penultimate one had more realistic background.
Hope you like my vision of the first Toa, good luck to everyone!