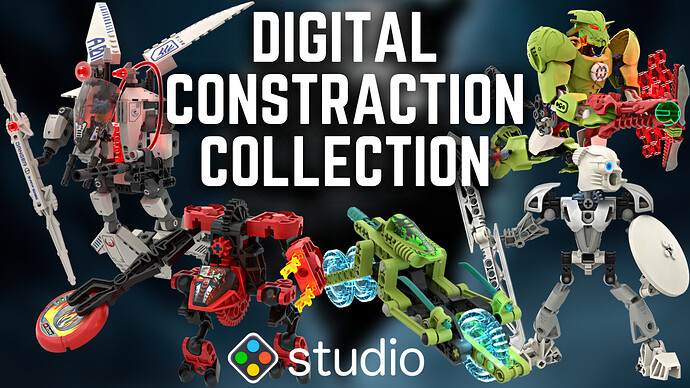 The Digital Constraction Collection (previously the Bionicle Database of Studio Models) is a single resource containing Studio models for Bionicle and other Constraction-related themes including:
Hero Factory
Slizers & Roboriders
Exo-Force
Other CCBS themes
These files are freely available. My hope is that this resource can be:
A useful reference for fans who want to identify how models are built, and to easily create parts lists for uploading into Bricklink
A springboard for other creative projects, be it artwork, animation, or
your own MOCs/revamps!
https://drive.google.com/drive/folders/1IJyAHHGeeMkKCyhR39vl42MGvrDsQPxV?usp=sharing
-MAJOR UPDATE AUGUST 2022-
I'm really excited to announce that this project has reached a significant milestone: We now have every standard Canister Set, Titan Set, Small Boxed Set, and Playset from Bionicle G1*!
*As far as can be built with currently available parts
In addition, we have most of the official combiners and alternate builds, a good start on G2, as well as loads of sets for other Constraction or Constraction-elated themes.
Ongoing work includes:
Building remaining G1 Combiners
Building G2 and other themes
Sourcing missing parts and updating placeholders
Creating decals and multicolored variants for the parts that require them
General QoL improvements, eg. corrections, documentation, consistent submodelling
Prototypes maybe?
If you have any files you think might be helpful, please PM me here or elsewhere, or email TammyCalamity [at] outlook.com
Thanks so much to everyone who has donated their time and digital building skill to the project so far!
Keep on building,
-Tammy